Drones2BIM data platform
Data usage from different perspectives
The Drones2BIM platform represents the centerpiece of our digital work with UAS data. It reduces project costs and increases efficiency and quality on a lasting basis. Developed and operated by our subsidiary infraView, the platform provides fully automatically processed orthophotos and 3D point clouds in the web browser, with integrated drawings and numerous measurement tools.
Area/volume measurements at the click of a mouse

High-resolution 3D point clouds of your project

Comparison between site plan (planned) and orthophoto (actual) for checking within seconds
Secure upload of raw data
Fully automated photogrammetry process
High-quality end products – available at short notice
Browser-based usage
Integration of design documents
Access control by means of extensive rights scheme
Cloud-based overall solution for upload processes, photogrammetry,
AI processes and data storage/hosting
Web-based user interface
How does Drones2BIM work?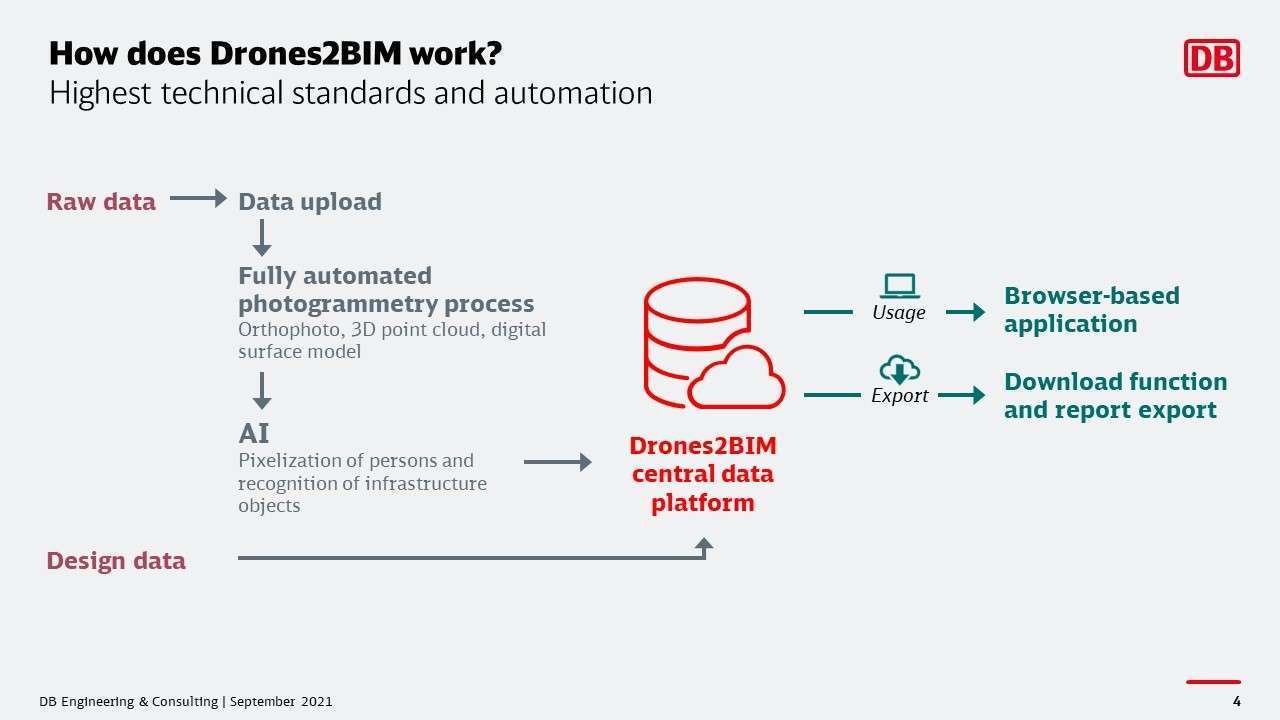 Provision of the products: orthophoto and point cloud
Commonly used measuring tools: distance, area, volume, cross section
Variance analysis by means of geo-referenced drawing integration and overlay
Visual and analytical comparison of condition over time
Export function for all data and reports
Comprehensive rights scheme, easy access via Microsoft 365 accounts
In perspective: inspection function
Entire process GDPR-compliant
Web application accessible from the internet any time, any place
Efficient processes without the need for site inspection or track closure
Transparent and reproducible (measurement) data
Simple use of data without in-depth knowledge
Contact us
Do you want to learn more about the Drones2BIM data platform at DB Engineering & Consulting? Contact us via the form and give us some information about yourself and your company, so that we can optimally prepare for initial contact. We look forward to your inquiry!
Data analysis and refinement