23,000 new DB employees this year
December 12, 2019 – 7:18 pm
Christina Hoiss (26) recently became the 23,000th new employee to be hired by DB this year. Hoiss, a civil engineer, received an enthusiastic welcome from Martin Seiler, DB's Board Member for HR, and Andreas Scheuer, the German Minister of Transport.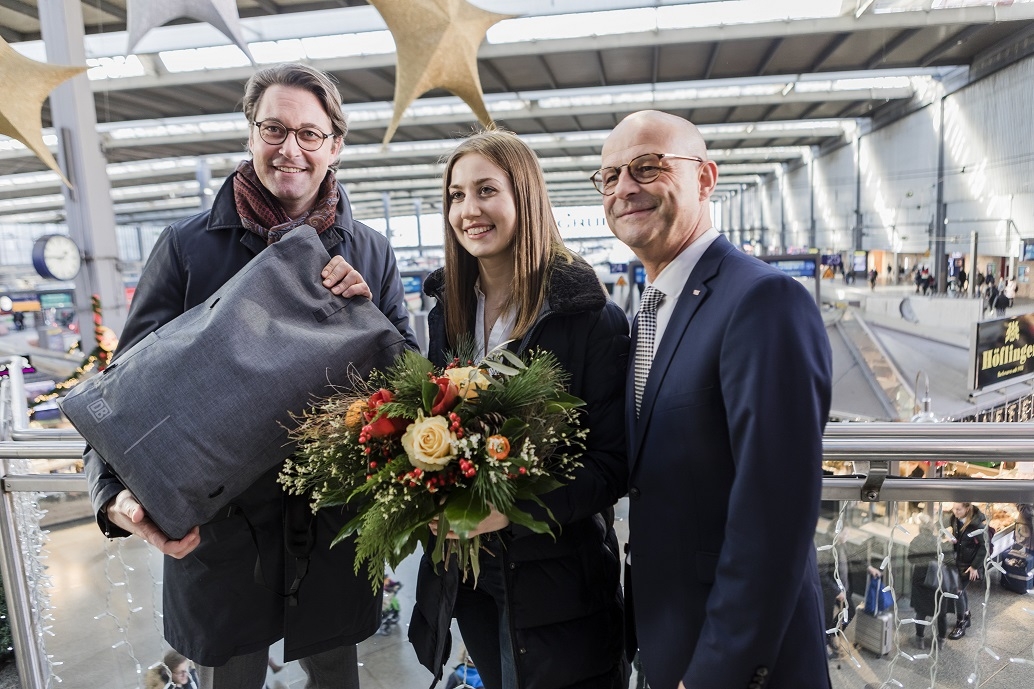 Christina Hoiß, who joined DB Engineering & Consulting this month as a civil engineer, was presented with a large bouquet of flowers, a DB backpack and a welcome packet on December 9.
Hoiss received her master's degree from the Technical University of Munich this summer and started her new job at DB on December 1. She is currently involved in designing an operations control center in Mühldorf for the Munich–Mühldorf–Freilassing line upgrade. Her future work will be in bridge construction. For Hoiss, the decision to start her professional life at DB was a deliberate one. "DB is shaping the future of mobility and climate-friendly transport," she said.
DB has already exceeded its recruitment target for this year, which it achieved in record time. And DB's recruitment and training program will continue in 2020.
You are interested in a career at DB Engineering & Consulting?
Take a look at our current job offers worldwide:
Contact
Sarah Geißler
Head of
Marketing & Communications
DB Engineering & Consulting
EUREF-Campus 14
Torgauer Strasse 12-15
10829 Berlin
Germany
E-Mail
---
Our news categories