Over 50 years of excellence
As one of the world's leading engineering and consulting companies, we connect people and markets by providing mobility and transport solutions around the globe.
Founded in 1966, our company has exported its rail engineering expertise to every corner of the world. We have been delivering on our promises ever since completing our first major project, which was building a 65 kilometer-long metro system in the Brazilian city of Sao Paulo in 1967. Much has happened in the intervening years and we have been involved in projects in over 100 countries across all continents.
We are continuously adapting our service portfolio to meet the challenges of the times and applying our proactive approach to innovation. Today, we can look back on many successes in our projects, which have had a major impact on infrastructure, mobility and transportation logistics across the globe. Recent highlights include the rail upgrade and construction project on the line connecting Karlsruhe in Germany and Basel in Switzerland, the installation of digital signaling equipment in the German town of Warnemünde, the European transport project Rail Baltica and the launch of the Sydney Metro, Australia.
DB Engineering & Consulting as it exists today was founded on April 1, 2016, with the merger of DB ProjektBau and DB International, both subsidiaries of Deutsche Bahn. The combined knowledge of both companies has made us stronger, and we now have more confidence than ever as we live up to our promises. While we have become accustomed to moving at a fast pace, we continue to evolve so we can help shape the world of tomorrow by providing sustainable mobility and transportation solutions, starting with an idea and continuing all the way to operations.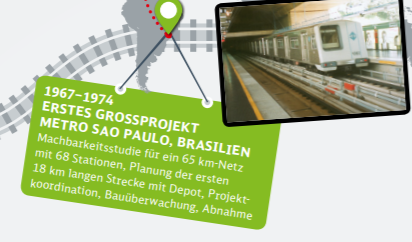 Download
Five decades of engineering know-how with Deutsche Bahn worldwide.