Grand opening of the new Žeželj bridge in Serbia
October 1, 2018 – 11:10 am
DB Engineering & Consulting and Serbian president celebrate the reconstruction of Serbia's national landmark
The new Žeželj bridge was inaugurated by the Serbian president Aleksandar Vučić on September 4th. Vincent van Houten, responsible for the projects in Serbia at DB Engineering & Consulting, attended the opening ceremony and celebrated with the Serbs the successful reconstruction of their national landmark.
The bridge, built in 1961, was destroyed during the NATO bombing of Yugoslavia in 1999. The newly constructed bridge has now been opened for rail and road traffic. The European Union funded the project.

The Žeželj bridge is a tied-arch bridge with an impressive structure on the Danube river in Novi Sad, Vojvodina, Serbia. The bridge consists of two Steel Structure Arches spans 220 and 180 m and two simple beams 47 & 28 m spans – in total 474 m. Arches and ties are connected with inclined hangers. The complete steel structure is 11.000 tons in weight. The bridge accommodates two railway tracks, two road lines and bicycle/pedestrian paths on each side.
Based on years of know-how and experience in construction supervision services, DB Engineering & Consulting experts were responsible for the construction supervision according to "FIDIC Engineer" in consortium with Egis International.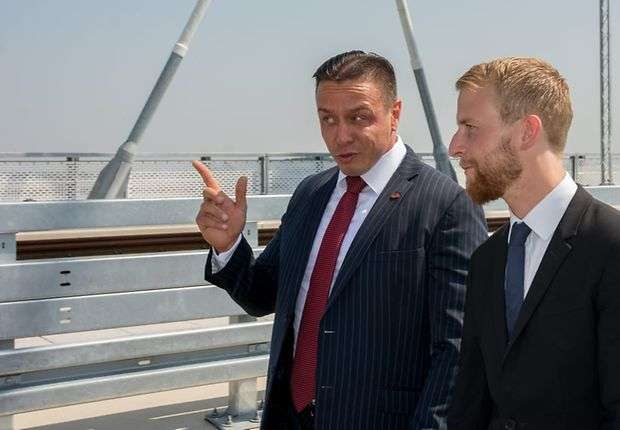 Contact
Sarah Geißler
Head of
Marketing & Communications
DB Engineering & Consulting
EUREF-Campus 14
Torgauer Strasse 12-15
10829 Berlin
Germany
E-Mail
---
Our news categories