Wildlife conservation at dizzying heights
May 22, 2022 – 9:42 am
Since 2001, 22 May has been celebrated as International Day for Biodiversity. For some time now, the Environmental Planning at Environmental & Geo-Services has employed two certified tree climbers. Their job is to protect mouse-eared bats, tawny owls, hermit beetles, dormice and other wildlife.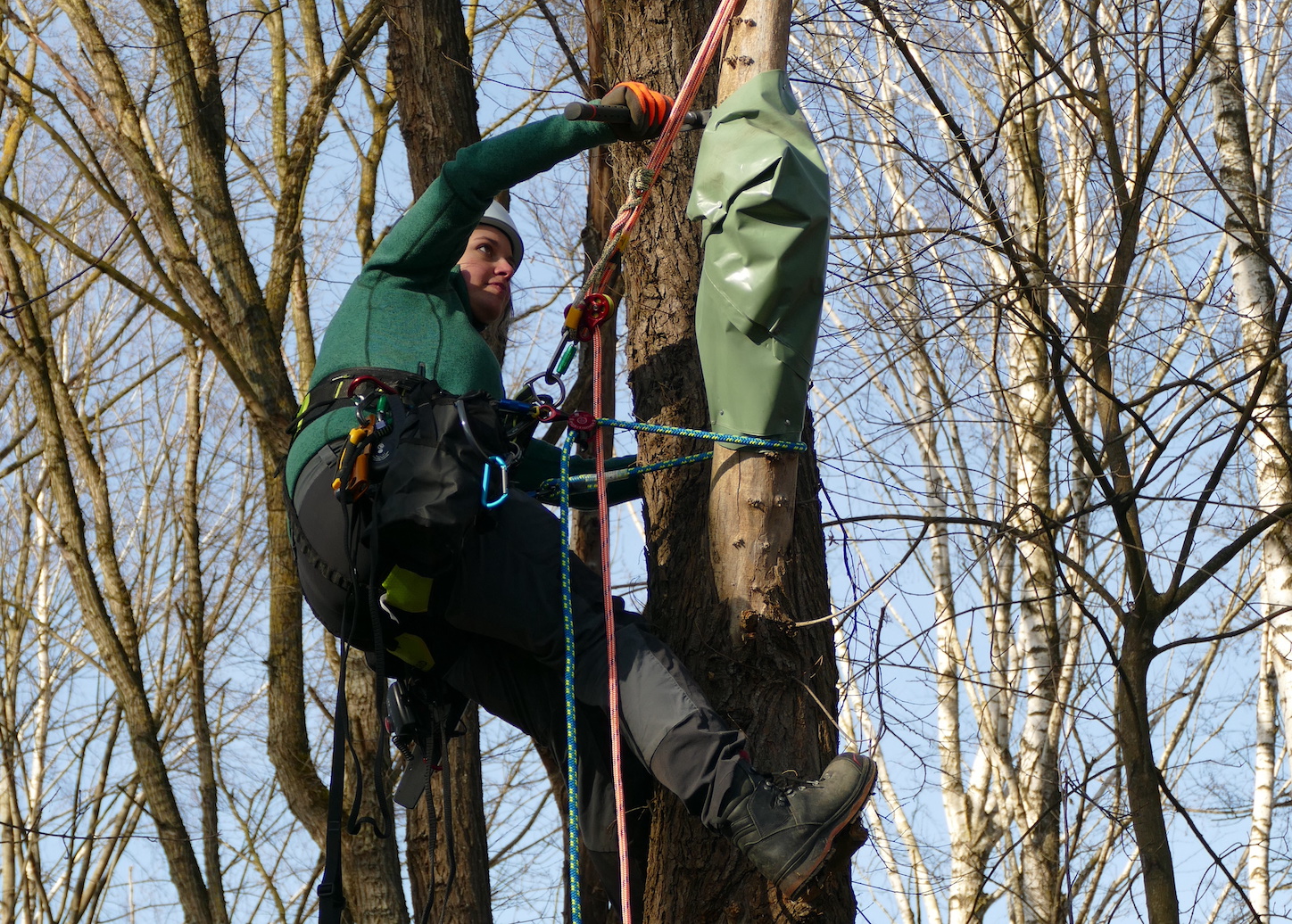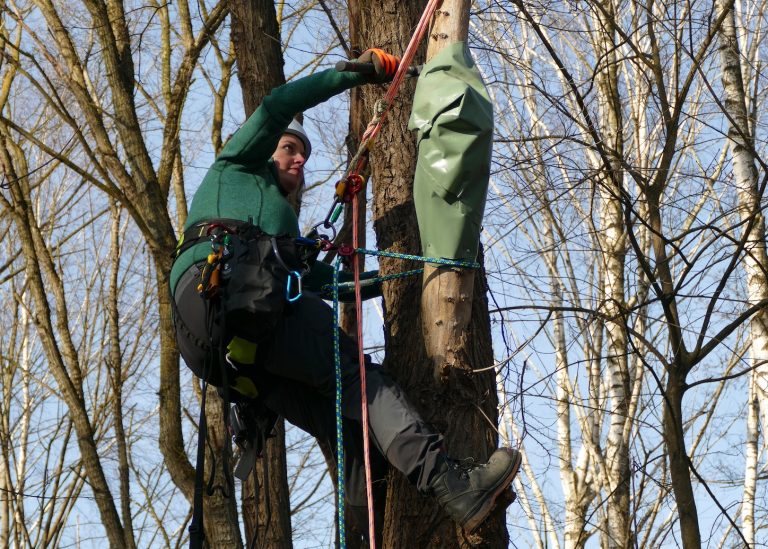 Isabelle Korschefsky and Max Kieckbusch have to meet an unusual requirement to do their job at DB Engineering & Consulting: They can't be scared of heights. That's because the two biologists work in the treetops near areas where DB construction projects are planned. Before any trees are felled or pruned, Korschefsky and Kieckbusch make sure that any threatened animal species or species that are crucial for keeping the ecosystem intact are protected. In other words, "we explore and document what can't be seen from the ground," Korschefsky says. Kieckbusch adds: "We're essentially assessing trees and their quality from a bird's eye view. We're looking for any hiding places, in particular ones that protected species could use, to ensure compliance with wildlife conservation laws. Authorities and environmental associations are increasingly requiring this level of attention in planning."
Gear, gear and more gear
The biologists need all sorts of equipment to reach such lofty heights, such as ropes, climbers and harnesses. Once up in the treetops, they use endoscope cameras, flashlights, and of course lots of acrobatics and their spirit of discovery to find out where different animal species may be hiding. Must-haves to work as a tree climber include years of experience in rope climbing and in assessing habitat trees to ensure compliance with wildlife conservation laws. This expertise is essential for ensuring that solid information about whether and which animal species will be affected is available early on during project design, and then later during environmental construction supervision. "This is important so that appropriate protection or compensation measures can be agreed on with the relevant nature conservation authority and implemented in time," says Kieckbusch.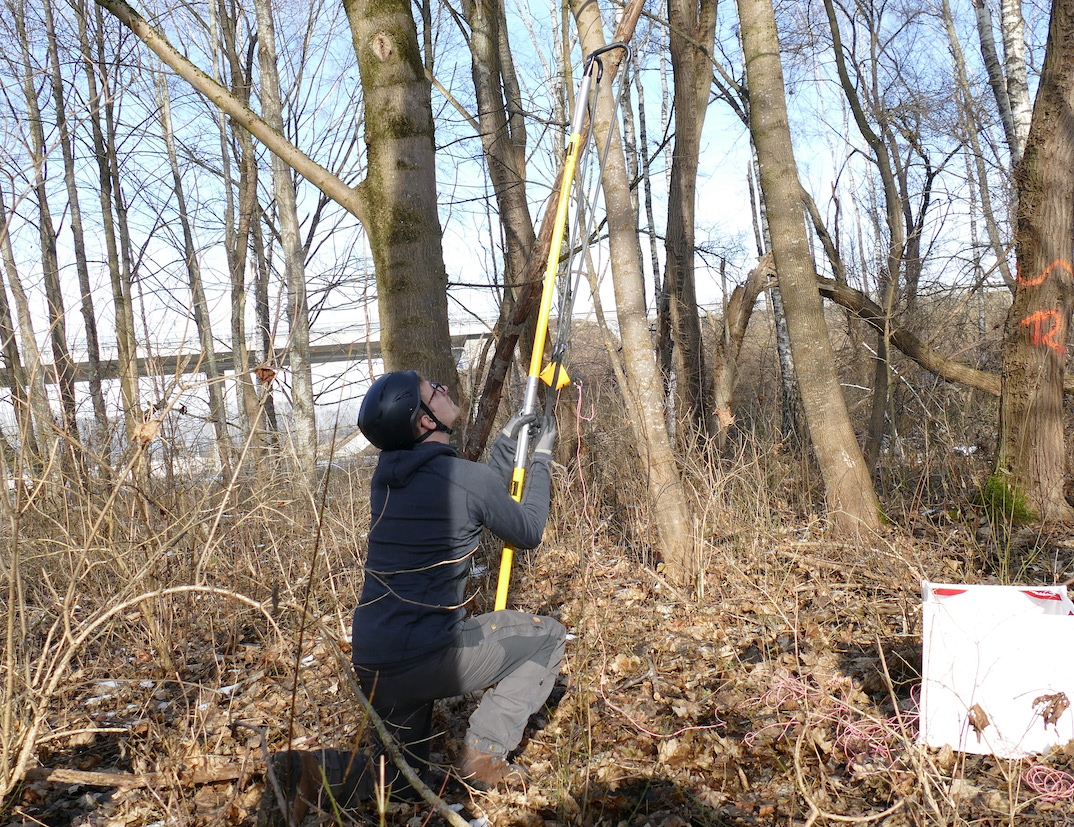 Kieckbusch and Korschefsky climb trees for DB Engineering & Consulting so that ultimately an effective solution can be found for design and construction projects. Tree felling can often be approved easily if no evidence of hiding places for protected species is found. Any unoccupied spaces that could be used for nesting, such as hollows, are sealed with film to ensure that no animals are inside when the trees are felled. "Often, however, spaces that at first look like they could be hollows turn out to be lichen once we get a closer look," Kieckbusch says. "This allows us to avoid costly compensation measures."
Climbing to protect wildlife
Assessing trees up close is important, especially when it comes to very old ones. Old trees have hollows and holes, such as woodpecker holes, cavities and cracks in bark, which different species of bats, birds and beetles use to raise their young or seek protection from the weather. Tree inspections for wildlife conservation purposes are now mandatory since populations of many bat species and hollow-dwelling bird species are declining. "In the case of bats, a hollow, due to woodpeckers for example, may not become an appropriate roost until 60 years after the tree is planted. This is a good example of why careful consideration is needed before very old trees are felled," explains Kieckbusch.
Tree climbers Kieckbusch and Korschefsky have now worked on six Deutsche Bahn projects throughout Bavaria, inspecting some 70 trees at dizzying heights to see if they are inhabited. Their findings have been incorporated into expert reports on species protection or into the implementation in the course of environmental construction supervision. The two biologists always climb together to their workplaces 15 to 25 meters above the ground to keep each other safe in case of emergency and to help each other on the way down.
Contact
Sarah Geißler
Head of
Marketing & Communications
DB Engineering & Consulting
EUREF-Campus 14
Torgauer Strasse 12-15
10829 Berlin
Germany
E-Mail
Our news categories