Sydney Metro's successful start
July 16, 2019 – 9:08 am
First section of line opens to enthusiastic response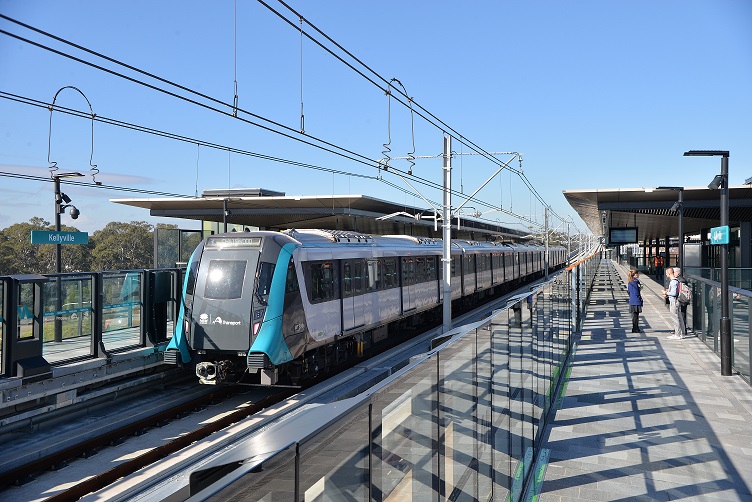 After five years of work on the Sydney Metro North West project, the first section of city's new metro system opened at the end of May 2019. Quickly ramping up to carrying 78,000 people every day, it took just two weeks before the new centerpiece of the Sydney metropolitan area's mass transit network welcomed its one-millionth passenger on board.
The first DB Engineering & Consulting employees arrived in Australia in 2014 to start working on the systems and vehicle consulting process and planning activities of the AECOM team. Subsequently, their work focused mainly on supporting design certification, overseeing the design of rail systems and rolling stock, and reviewing acceptance tests. Working for HK-A (formerly Hills International), other employees were busy with parallel activities in the rolling stock surveillance project for producing and certifying the metro trains at Alstom's manufacturing facilities in Chennai, India.
These activities were DB E&C's contribution to ensuring that the project met its completion deadline and that the price tag ended up some EUR 700 million (AUD 1 billion) below the budget figure at the start of operations.
By the 1st July a fleet of 22 trains operates on the 36 km line, which consists of 13 stations. Starting at Tallawong (formerly Cudgegong) in the neighborhood of Rouse Hill, the route first proceeds to two elevated stations and then along a 4 km viaduct (known as the Skytrain) to the next stop at Bella Vista. Then, it heads underground: A 15 km double-tube tunnel with three underground stations takes trains to Epping, where they switch to the tracks of the old suburban rail line that have been modified for the metro project. This section includes three stops and, for the time being, brings us to the end of the Sydney Metro at Chatswood. The automated metro system uses driverless trains.
The northwest section of line forms the first part of the route, measuring 66 km in total. When the work is completed, it will run under Sydney's harbor to the Bankstown district and include 31 newly constructed stations. The completion of the City/Southwest route is planned for 2024.