Modernisation of Duisburg main station
March 24, 2022 – 8:51 am
DB Engineering & Consulting (DB E&C) has achieved a major success after competing together with the companies Vössing and Schüßler-Plan in a bidding consortium, and winning the contract for the redevelopment of Duisburg main station.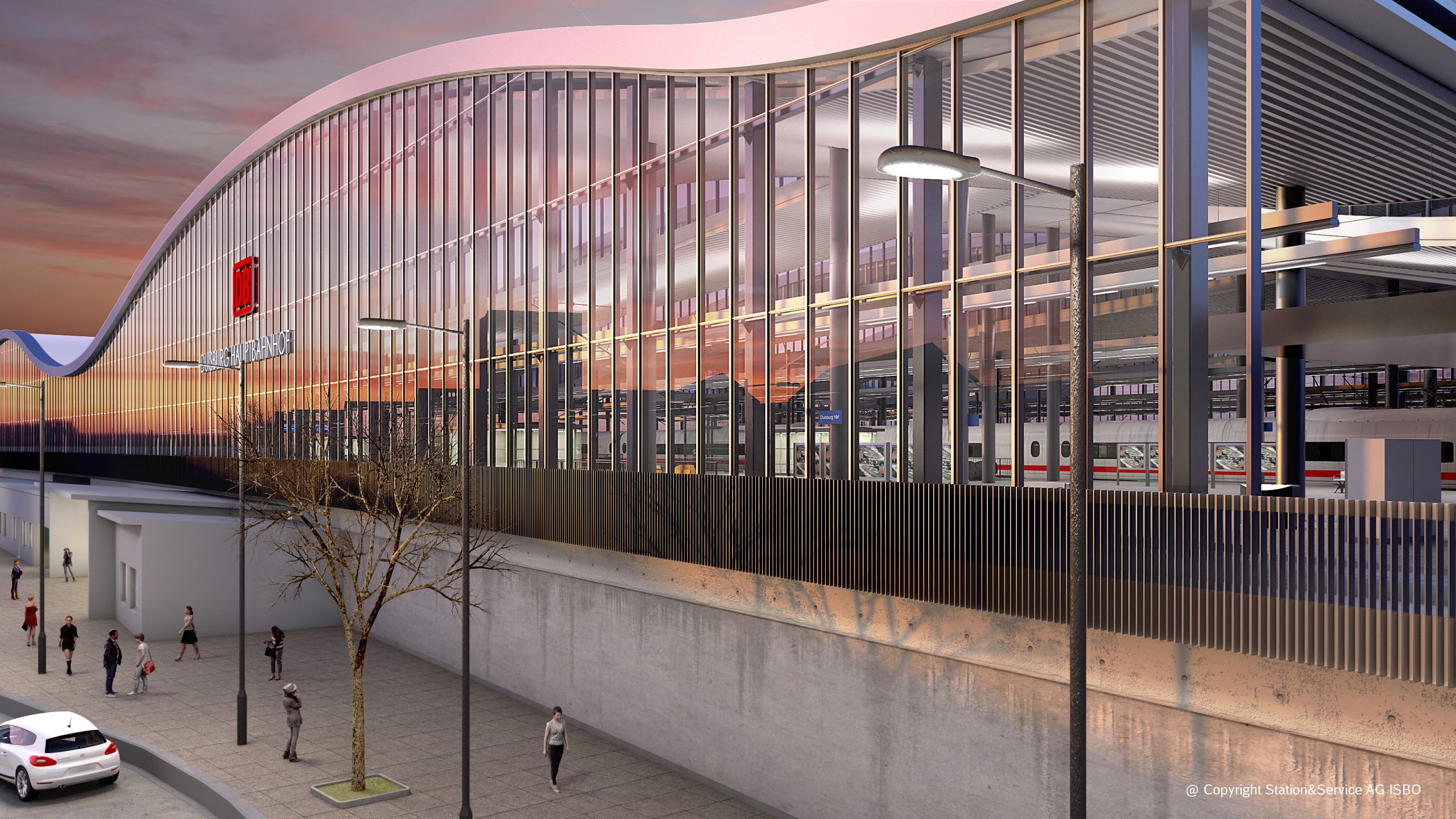 Our experts are responsible for the technical management of this construction project and, in cooperation with the partners in the engineering consortium, Vössing and Schüßler-Plan, will oversee all the construction supervision services and environmental and geo-services.
The new roof has a distinctive wave shape.

Visualisation of the new platforms

Interior view of the newly designed track hall
The German government, the state of North Rhine-Westphalia and Deutsche Bahn are investing around EUR 260 million in a modern, architecturally appealing track hall with a curved, wave-shaped glass roof, six new platforms and new overhead line equipment to upgrade the main station in Duisburg.
Duisburg's main station is in urgent need of an upgrade. The station building and the passenger tunnel through the station were renewed some years ago. Now it is the turn of the station facilities, including the track hall and the overhead line equipment. The main construction work, such as the renewal of the track hall and its roof, and the rebuilding of the platforms, is expected to start at the end of 2022.
The current roof will be replaced with a new structure of undulating steel beams. The materials used for the roof will pay tribute to the industrial heritage of the Ruhr region, and the generous amount of light it lets in will considerably improve the quality of experience for passengers. The construction project also involves the complete renewal of the platforms and their fittings. Some of the new features to be added are a modern wayfinding system with tactile guidance, and modern public address and lighting systems.
Contact
Sarah Geißler
Head of
Marketing & Communications
DB Engineering & Consulting
EUREF-Campus 14
Torgauer Strasse 12-15
10829 Berlin
Germany
E-Mail
---
Our news categories