Construction supervision 2.0: Everyday digital activities at the Dresdner Bahn construction site
September 14, 2020 – 9:00 am
DB Engineering & Consulting GmbH is relying on multicopters (more commonly known as drones) to help with construction supervision for its "Dresdner Bahn" project.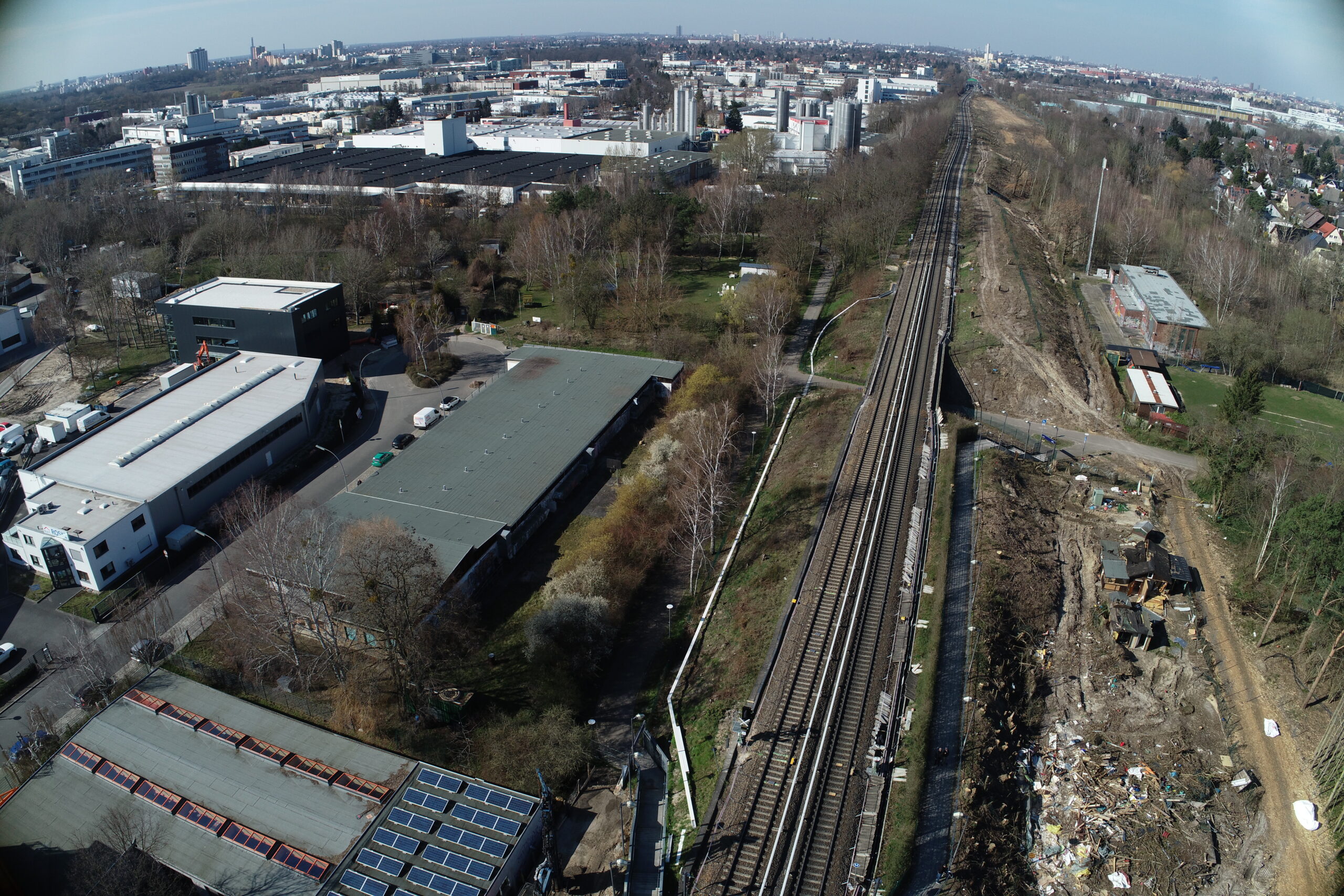 State-of-the-art, high-precision multicopters capture thousands of images in the shortest possible time. This image data is then processed on a platform entirely automatically, providing the construction supervisor with a digital twin just hours after the pictures have been taken. The use of multicopters on construction sites supports the digitalization of infrastructure.
Before construction (left) vs. during construction (right) (slider)

Reality (left) vs. plan comparison (right) (slider)

Overlay of implementation planning with orthophoto (before the construction measure)

Overlay of implementation planning with orthophoto (during the construction)
"Dresdner Bahn" is currently the largest infrastructure project in DB Engineering & Consulting's Eastern Region in Germany. The multicopters should provide information on installation and conversion work. Remaining work on underground cable installation, cable cabinets and track switching equipment can be documented and analyzed in the shortest possible time, allowing the percentage of project completion to be communicated to the project management.
The multicopter not only offers efficient support for approval processes, but it also increases the quality of long-term documentation of the project and its completion status. Construction supervision, project owners and contractors all benefit from enormous time-savings thanks to the joint determination of actual work performed using orthophotos. The storage of planning documents in Viewer enables construction supervision to carry out efficient variance analyses. As a result, potential delays can be countered effectively – and this is exactly what the deployment of multicopters on the construction site is intended to achieve. Faster and better planning and construction with less impact on the environment and customers in passenger and freight transport – entirely in keeping with DB's overarching "Strong Rail" strategy.
Contact
Sarah Geißler
Head of
Marketing & Communications
DB Engineering & Consulting
EUREF-Campus 14
Torgauer Strasse 12-15
10829 Berlin
Germany
E-Mail
---
Our news categories