Line upgrade 48: All wired up!
August 20, 2020 – 3:14 pm
The electrification of the line upgrade 48 – more than 150 kilometers of line from Geltendorf to Lindau in the Allgäu region of Germany – is almost complete.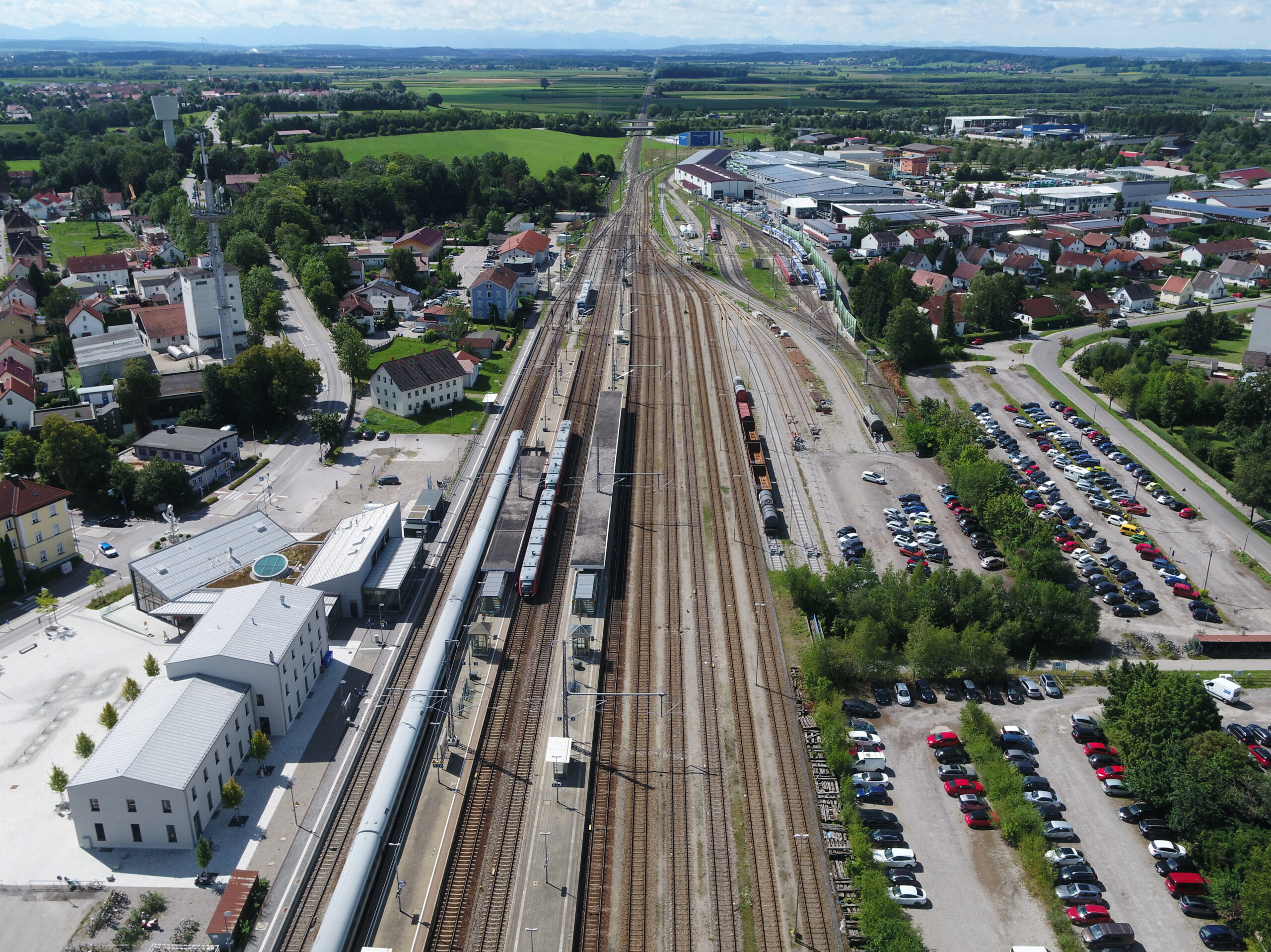 The last of over 3,500 masts have now been installed and the final meters of overhead line fixed into position. Niko Warbanoff, CEO of DB Engineering & Consulting, took the opportunity to visit the Buchloe section of the line upgrade 48 together with the regional management team and colleagues from Construction Supervision:
Niko Warbanoff with the regional management team and colleagues from Construction Supervision

Niko Warbanoff gets information before the images are taken
Buchloe is the ideal place to see every feature of the electrification scheme: brand-new catenary and feeder line, masts, headspans, noise barriers up to six meters high, and an auto-transformer system. Thanks to the autotransformer principle, with a feeder line the return traction current outside the track section being traveled primarily flows back to the substation via the feeder line rather than the rails. As a result, the EMC influence on neighboring systems is significantly lower than with conventional overhead line systems. Drone images of the central station Buchloe give a bird's eye view of the project's progress:
Work has been taking place in parallel along the entire route since March 2018 – a mammoth task for the Construction Supervision team. Design work began as long ago as 2013. Test runs will start this autumn, and quiet, environmentally friendly electric trains will begin speeding passengers through the Allgäu from the timetable change in December. Warbanoff and the teams involved in the line upgrade 48 are buzzing with anticipation. The electrification of the line will cut almost an hour off the journey time between Munich, Germany and Zurich, Switzerland.
You can learn more about the project in this blog, where the project team gives regular updates on the construction (available only in German).
Contact
Sarah Geißler
Head of
Marketing & Communications
DB Engineering & Consulting
EUREF-Campus 14
Torgauer Strasse 12-15
10829 Berlin
Germany
E-Mail
---
Our news categories