Strong partners for the Metro Buenos Aires
November 5, 2018 – 9:36 am
The Metropolitan Area of Buenos Aires is Argentina's most important economic area. More than 40% of total GDP and industrial activity is concentrated in 1% of the country's territory. The demands on public transport are high and continue to rise. In addition to buses and trams, the approximately 15 million inhabitants can access a metro system consisting of 6 lines with 86 stations and 135 trains.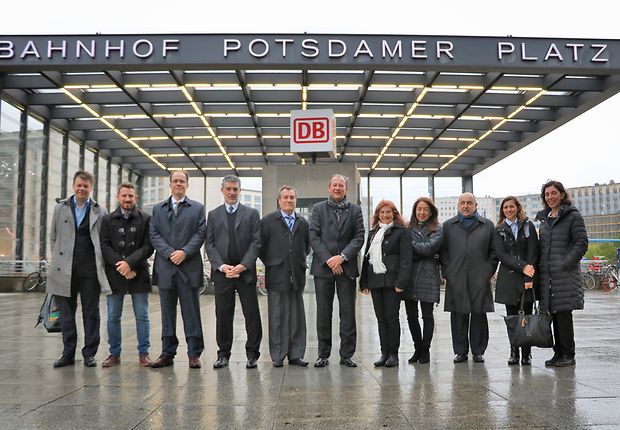 In early December 2018, the concession for the operation of the metro of the Argentine megametropolis will be reassigned. Metrovias, the current operator, has recognized the challenges of the future and set up a customer satisfaction program. This ranges from improving the availability of vehicles through a new maintenance concept right up to digital offerings for connected mobility. DB Engineering & Consulting (DB E&C) advised Metrovias as Technical Advisor in designing the offer.
From October 15 to 19, 2018, Oliver Pietz, Director Latin America DB E&C, visited Buenos Aires. Together with representatives of the city government of Buenos Aires, he talked about the benefits of a cooperation in the course of the modernization program of the Metro Buenos Aires. He also visited the maintenance depot Polvorin in Buenos Aires.
From the 24th to the 26th of October representatives of the Metrovias management as well as representatives of the press were visiting Germany. In the "Frankfurt Skydeck", the Innovation Lab of the Deutsche Bahn, guests were given an insight into digital innovations and creative thinking and solution approaches. The inspection of the maintenance depot of the S-Bahn Frankfurt showed how maintenance works in Germany.
Metrovias and DB Engineering & Consulting are two strong partners who, with their experience, will continue to make the Metro Buenos Aires more customer-friendly and at a high technical level operational excellence.
Contact
Sarah Geißler
Head of
Marketing & Communications
DB Engineering & Consulting
EUREF-Campus 14
Torgauer Strasse 12-15
10829 Berlin
Germany
E-Mail
---
Our news categories