Tied-arch bridge on Munich's 2nd core S-Bahn route successfully pushed into position
August 4, 2021 – 6:52 am
DB Engineering & Consulting's Construction Supervision unit has been supervising work on the western overground section of Munich's 2nd core route since January 2021. In late July, the tied-arch bridge was pushed into position, marking an important milestone in the project.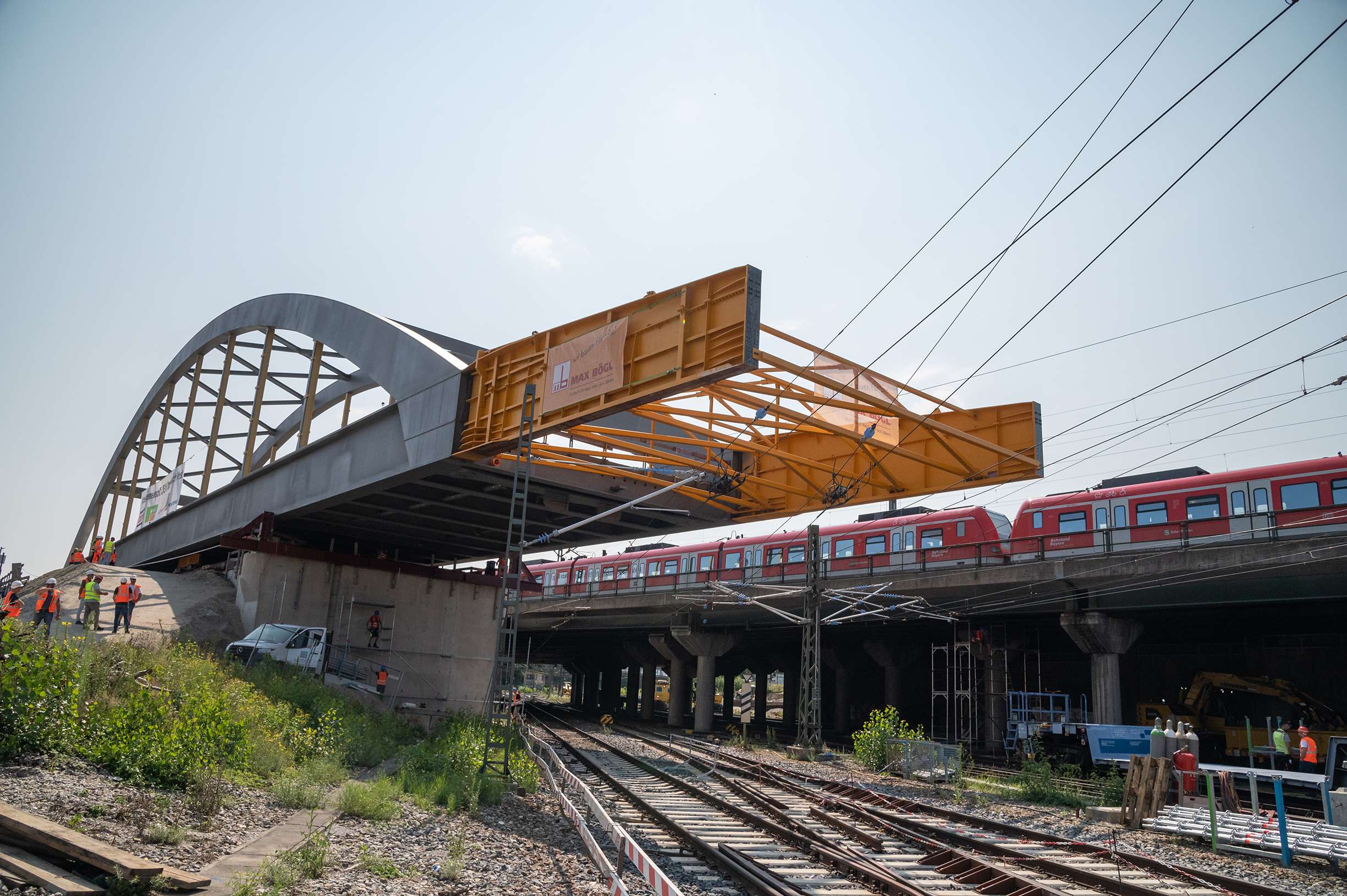 Complex challenges for DB E&C's Construction Supervision Unit
The western overground section is one of five main construction stages in the large-scale project to build Munich's second core S-Bahn route. An "island" construction site was set up to carry out construction work on the three kilometers of line in the western overground section. The section is scheduled to be completed in December 2026.
Since January 2021, DB E&C's Construction Supervision unit has been contributing its expertise as part of an all-around technical, operational and contractual service. It is responsible, among other things, for retaining walls and noise barriers in the entire area, for an underpass, for Laim station with access structures in western Munich and, to the east, for the northern and southern grade separation structures and the tied-arch bridge. Coordinating construction work with rail service, which will continue throughout the construction project, has been a particularly complex challenge that the team must master on a daily basis.
Impressive operation to slide the tied-arch bridge into position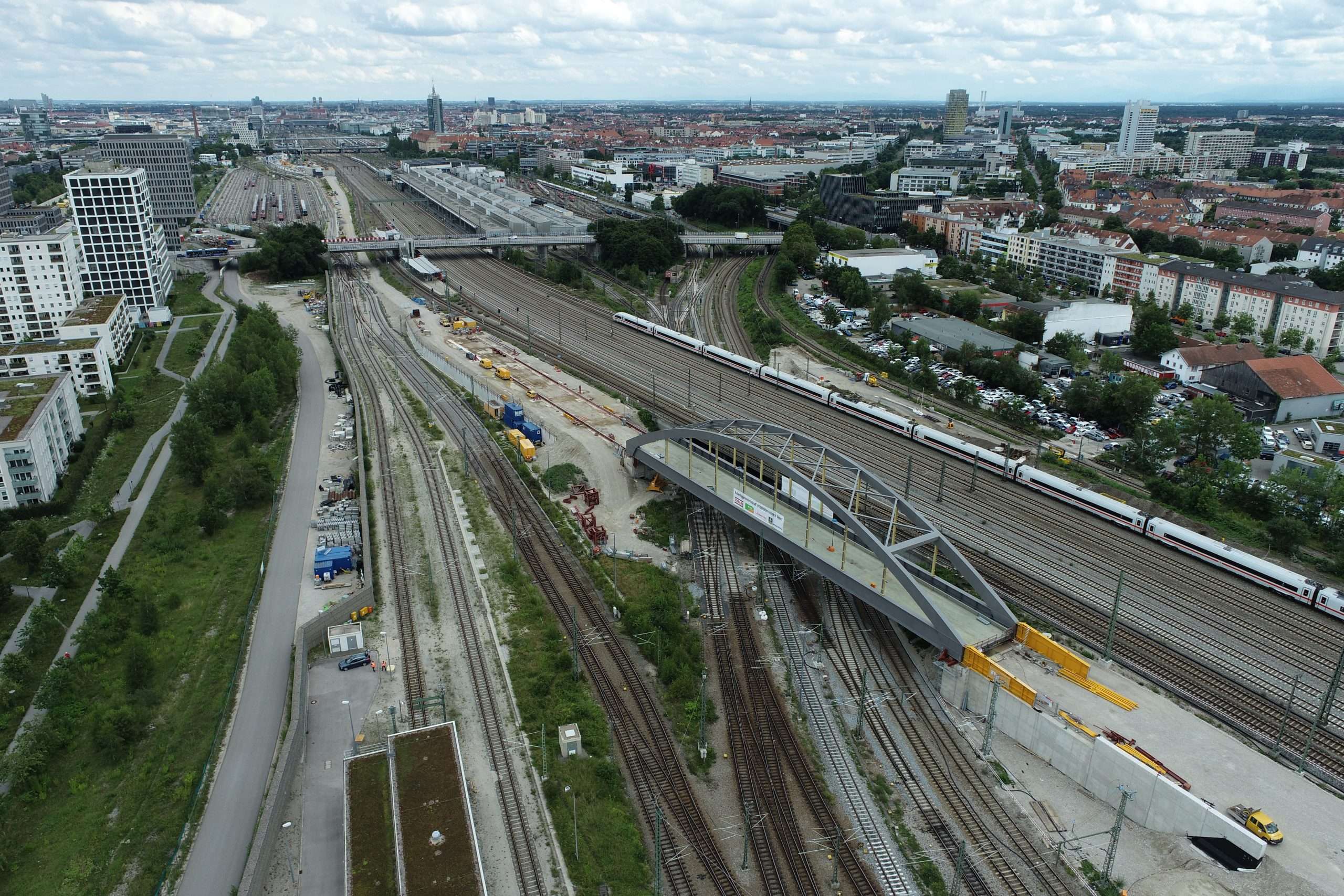 In late July, the first major milestone of the project was reached: sliding the 1350-metric-ton, 16-meter-high, 95-meter-long tied-arch bridge into position. Both preparatory work and the actual slide-in had to be timed precisely and coordinated with all project participants. The aim was to keep disruption to rail operations to a minimum. The skidding system and abutments were built separately, and the entire steel superstructure and launching nose were assembled in a special pre-assembly area. This minimized interference with rail service. The foundations, including those for the auxiliary supports, had been prepared during previous service closures. Once the auxiliary steel supports were installed, the six tracks below the bridge were closed temporarily so the bridge could be pushed into position over a period of two days. During that time, the bridge traveled a distance of 118 meters in five stages. The steel superstructure of the bridge was pushed on PTFE slide plates using two pairs of bearings, each pair connected by a bearing axle. A total of four hydraulic presses were used, each with a maximum pushing and stabilizing capacity of 50 metric tons.
Shifting bearing with hydraulic press

Underside view of the tied-arch bridge with auxiliary supports

The sliding operation is completed

Ongoing rail service during the sliding operation

The evening scene after the completed work

Bird's eye view of the tied-arch bridge
The slide-in, an important milestone in the project, was completed successfully and on time. The tied-arched bridge will initially serve as an access road until it opens for service, likely in 2028, with the rest of the second core route.
Contact
Sarah Geißler
Head of
Marketing & Communications
DB Engineering & Consulting
EUREF-Campus 14
Torgauer Strasse 12-15
10829 Berlin
Germany
E-Mail
---
Our news categories