Rapid and efficient damage assessments help to quickly rebuild after catastrophic flooding
September 16, 2021 – 7:30 am
The experts at DB Engineering & Consulting (DB E&C) are helping Deutsche Bahn on the damage assessment in the flooded areas of western Germany using Ground-Penetrating-Radar (GPR), multicopters and TRACKORD, an app for digital site inspections.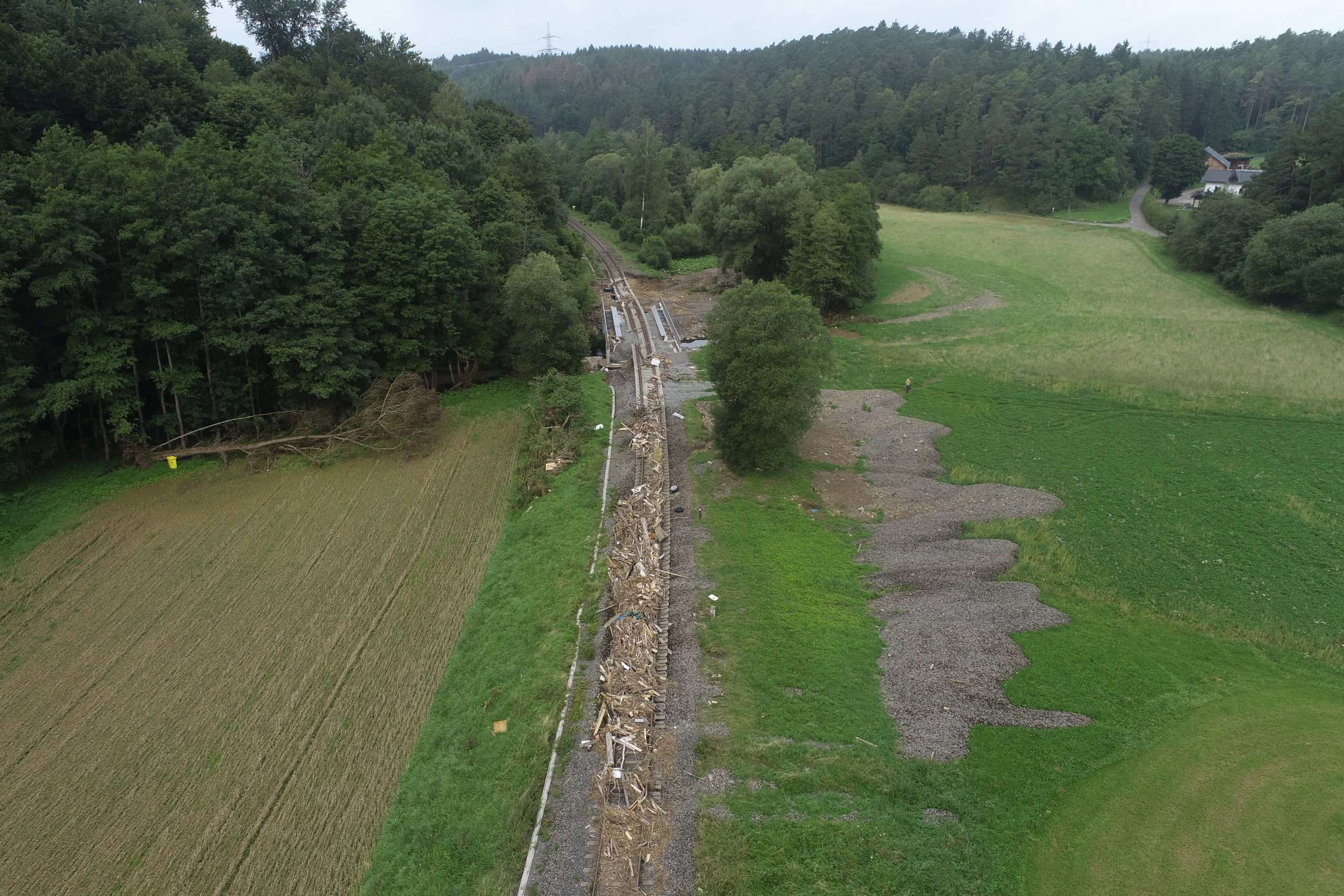 In mid-July of this year, parts of the German states North Rhine-Westphalia and Rhineland-Palatinate experienced extremely severe flooding. The infrastructure on seven regional transport routes suffered such massive devastation that Deutsche Bahn will have to restore or completely rebuild it all. DB E&C is assisting DB Netz and DB Station&Service with damage assessments.
Using Ground-Penetrating-Radar at 50 stations
Sometimes, damage isn't obvious at first glance. Vast quantities of floodwater can wash out station platforms, destabilizing them and making them dangerous. Using a GPR system to non-destructively inspect and check the condition of traffic routes and structures, damaged areas and phenomena such as cavities in the earth up to a depth of four meters (13 feet) can be identified and revealed. The resulting data can be mapped using building information modeling, thus providing a solid starting point for design work.
Undercutting of the tracks due to flooding in Western Germany

Flood damage on the Eifel route, Germany

Flood damage Bad Neuenahr, Germany
Within a very short timeframe, an interdisciplinary team of DB E&C specialists in ground-penetrating-radar, surveying and geotechnical engineering spanning multiple regions was formed to inspect 50 stations in the flooded areas (including ones in the Ahr Valley).
Flying over the Eifel route with multicopters
The portion of the Eifel route between Euskirchen and Netterhsheim and the routes leading from Euskirchen to Bad Münstereifel and Rheinbach were severely damaged by floodwaters.
Multicopters were used to conduct fly-overs of large sections of the route in very little time, which allowed them to identify damage from the air. On August 12, the first multicopter took off from the Construction Supervision Center in Dortmund. A second team from the Construction Supervision Center in Cologne provided another multicopter to assist with the fly-overs. In total, the teams surveyed damage along 58 km (36 mi) and at 13 stations.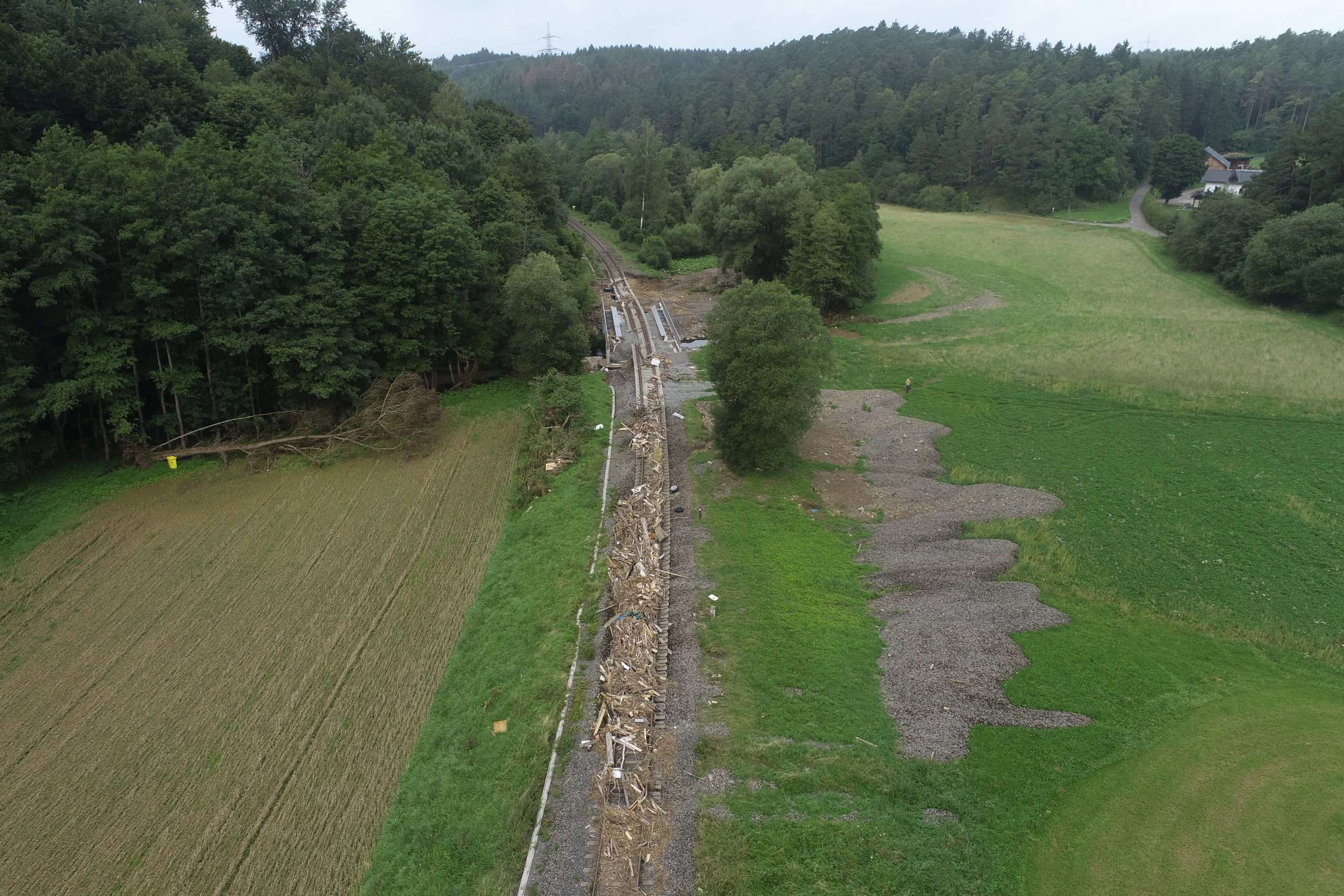 The high-resolution aerial images have been used to create orthophotos – distortion-free scale representations of the earth's surface. In addition to 2D orthomaps, the processed data can be used to create 3D point clouds for future designs.
Site inspections using Trackord
The section of the Eifel route running to Ehrang in Rhineland-Palatinate was also dramatically impacted by flooding, as was the section of the Ahr Valley route running between Walporzheim and Ahrbrück.
A mere two days after the catastrophic floods, the first damage to rail infrastructure was logged using TRACKORD, a site inspection app developed by DB E&C. The app can be used to quickly and conveniently log damage caused by flooding, and a web app can be used to access data from previous site inspections as well.
Using the damage assessment in TRACKORD, infrastructure managers are able to develop necessary measures in real time to reinforce rail infrastructure as quickly as possible and ensure rail operations can be resumed safely.
Thanks to the rapid assistance and cooperation of colleagues from all business units of DB AG, the reconstruction planning can now begin.
Contact
Sarah Geißler
Head of
Marketing & Communications
DB Engineering & Consulting
EUREF-Campus 14
Torgauer Strasse 12-15
10829 Berlin
Germany
E-Mail
---
Our news categories