Railway overpass Ostkreuz: New bridge construction in Berlin with some unknowns
November 9, 2020 – 2:52 pm
Joining forces to bring the project to a successful conclusion: Just in time for the opening of the new airport Berlin Brandenburg (BER) "Willy Brandt", the airport express FEX hast started rolling over the railway overpass of the major "Ostkreuz" project in October.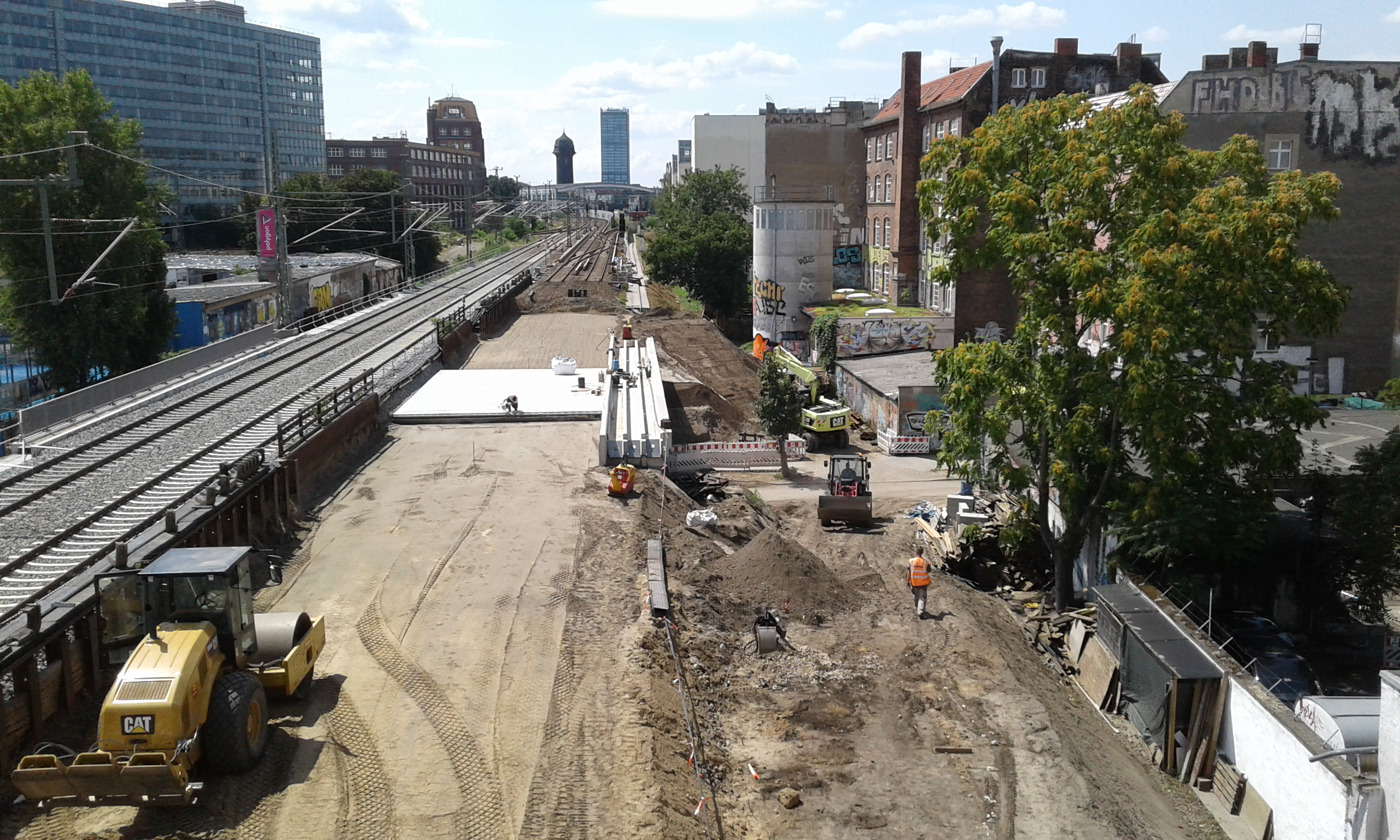 The replacement of the four-track railway overpass is a component measure in the major "Ostkreuz" project. Starting in October, the airport express FEX has started rolling over it from Berlin main station via the Gesundbrunnen station to the new Berlin Brandenburg Airport (BER) "Willy Brandt". It also accommodates the high-traffic rapid transit line on the Berlin Ring between the stations Frankfurter Allee and Ostkreuz. For this reason, certain work here was only possible during off-hours with consistent adherence to the revised construction schedule.
In addition to the standard tasks of construction supervision, the project team of DB Engineering & Consulting provided intensive support in the development of technically feasible solutions and in organizational issues. This became necessary because it became apparent during the construction phase that the selected construction methods were unsuitable in view of the existing subsoil and the nearby building boundaries.
The project comprised the renewal of the bridge and the track, the erection of three retaining walls and signal brackets, the corresponding adaptation of the power supply systems (15 kV 16 2/3 Hz contact line and 750 V DC side-current rail), the control and safety technology as well as the implementation of further measures.
Excavating of the provisional bridge in the northern directional track of the rapid transit line
With the beginning of the construction work it became clear to all project participants: The project is not going to "run by itself"! The influences of the nearby urban development up to almost the embankment base and the high strata water situation were not taken into consideration sufficiently. In view of the numerous obstacles in the ground, the low-vibration pressing method was not suitable for installing the steel sheet pile walls. As an alternative, a vibrating pile driver with replacement bores was chosen, whereby these were not executed in the lock area but in the entire profile area. In order to control the condition of the residential and commercial buildings during the vibration work, our construction supervision team has proposed the monitoring of the vibration and subsidence in order to guarantee the stability at any time.
Contact
Sarah Geißler
Head of
Marketing & Communications
DB Engineering & Consulting
EUREF-Campus 14
Torgauer Strasse 12-15
10829 Berlin
Germany
E-Mail
---
Our news categories