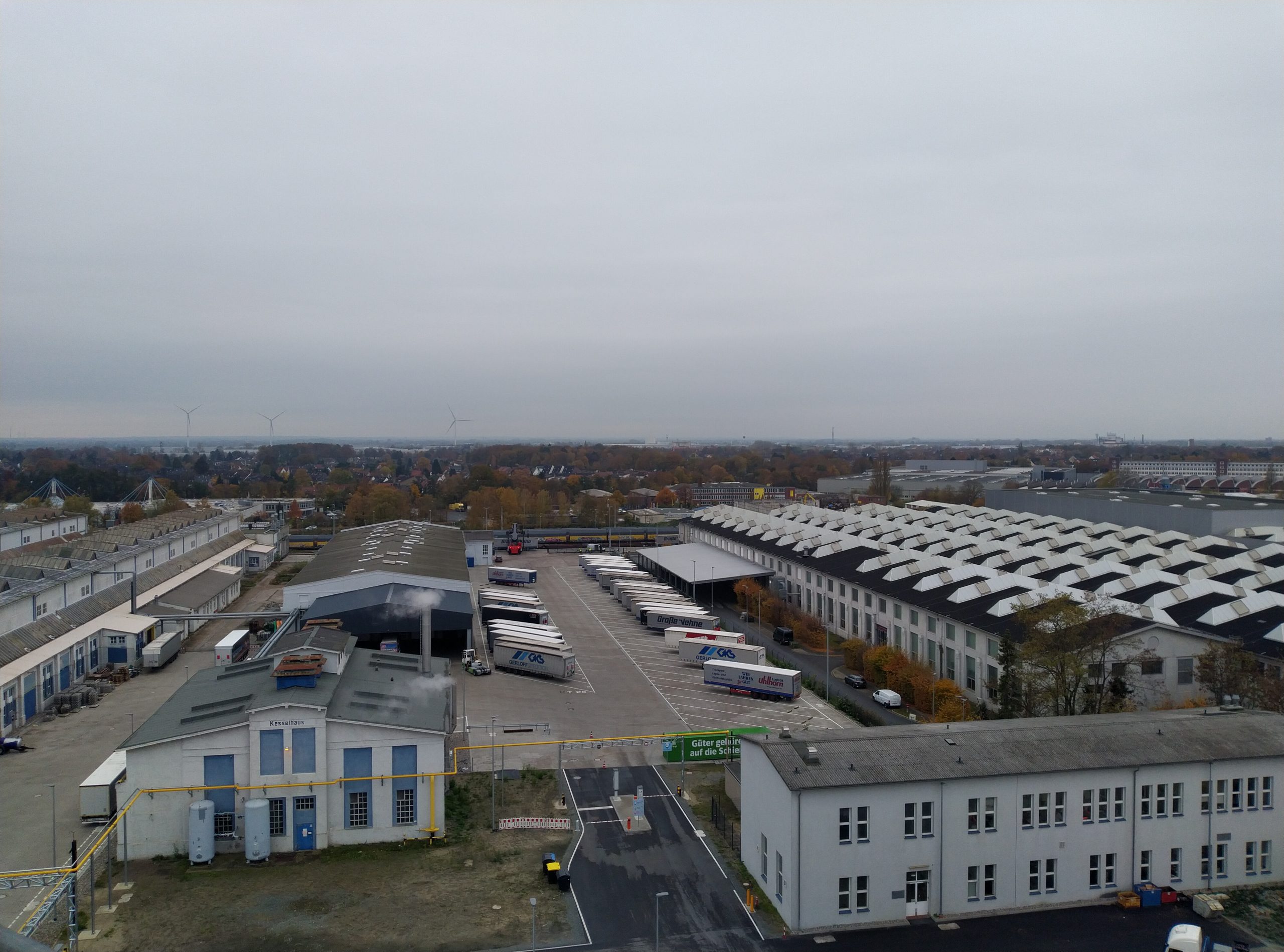 Automotive Logistics Center (ALC) Bremen
A major automobile manufacturer began production of its new series of electric cars in Bremen-Sebaldsbrück. It became necessary for the company to reorganize its procurement logistics and intralogistics. In addition to changes that were made to sourcing processes, significant aspects of the reorganization included reduced availability of logistics space at the Bremen plant.
DB Cargo Logistics GmbH was already operating the Auto Terminal Bremen (ATB) nearby of the car manufacturer since 2012 and provides outbound distribution services for the automobile manufacturer at this logistics location. Furthermore, it planned to expand the space made available by DB for inbound logistics services. This was put into operation in 2021, since when rail logistics services for battery and component transports can be offered to the car manufacturer.
New space for transport, such as parking lots and lanes for trucks, needed to be created for the planned logistics operations to be carried out. At least 50 parking spots for semi-trailers and further traffic areas were required to enable access to the different areas of the site and provide space for unloading incoming trucks. In addition, facilities for securing the site, a place for a charging station for electric trucks and an area for handling damaged vehicles were planned.
For this ALC Bremen project, DB Engineering & Consulting provided design, construction supervision services, and environmental and geo-services (including ground penetrating radar).
Ronja Husheer

"Thanks to the partnership-based cooperation with DB E&C, it was possible to closely coordinate the planning process with all parties involved and to achieve a very good result."
Project data
45 ha in total
2 maintenance sheds with approximately 18,000 m² of space in all
1 office building
Parking spots
Water tower
Approximately 15,000 m² of open space
2 loading and unloading sidings
Development, construction and operation of a trailer yard
Warehousing with SetKom services (pre-assembly, order picking)
and battery handling
Construction and operation of a rail transshipment facility
Fire and disaster prevention
Explosive ordnance survey
Inspection and maintenance
Object-based project data
Modernisation of two existing freight tracks of 5 km length
Installation of road traffic signalling systems on the site
1.5 km underground cable installation
1 km drainage systems

Custom specification: underground rainwater retention basin

Renovation of the warehouse and office buildings

In particular: roof for charging station

Building services

Sanitary facilities (sewage, water, gas)

Telecommunications and information technology

Fire water tank
New construction of facilities for refuelling and refilling service fluid
New construction of a storage siding/shed as a trailer yard
LED lighting systems
Environmental design

Wildlife assessment report

Geotechnical engineering:

Geotechnical investigation

Existing structures and concrete technology:

Custom specification: ground penetrating radar

Inspection of existing structures

Surveying:
Services
Structural engineering
Transport facilities