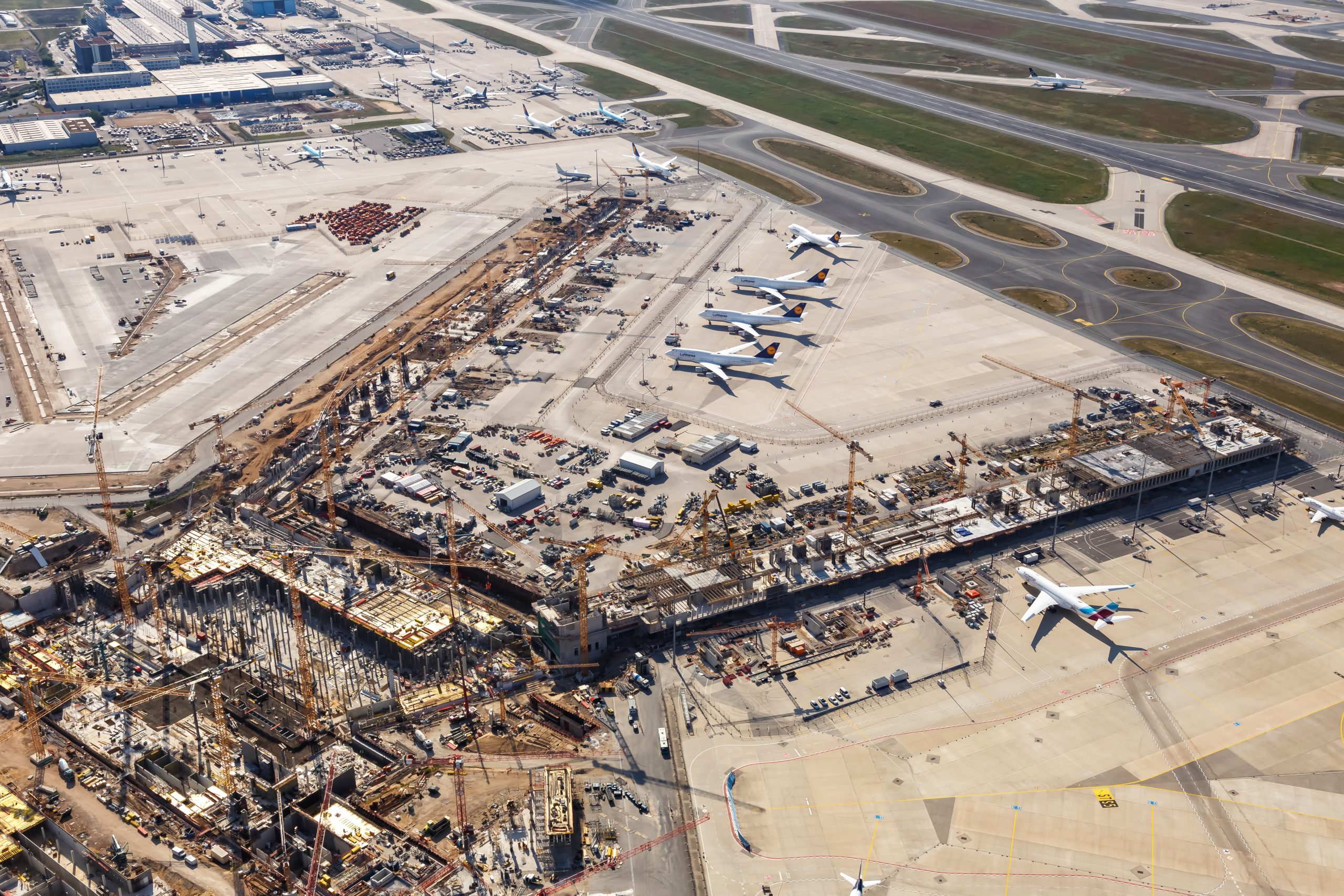 Regional and local connection to Passenger Terminal 3 at Frankfurt Airport
The southern expansion of Frankfurt Airport was initiated at the end of the 1990s in order to meet the high future capacity utilization of the hub in the German state of Hesse. Construction of the new Terminal 3 was intended to relieve pressure on the existing Terminals 1 and 2.
According to forecasts, annual passenger numbers are expected to increase from 64 million in 2020 to around 86 million by 2030. The new terminal is expected to handle 19 million passengers a year. According to Fraport, Terminal 3 is scheduled to go into operation in 2025.
Direct connection from Frankfurt Central Station to Terminal 3
The ever-increasing number of passengers at the Frankfurt air hub will significantly increase passenger traffic. Approximately 95,000 trips per workday are expected on public transportation, roughly two-thirds of which (approximately 63,300 trips per workday) will be taken by rail.
The new Terminal 3 will therefore need to be reached by train from Frankfurt Central Station. The planned northern connection of the new-build line is intended to eliminate the need to change trains at the regional station at the airport (Terminal 1). This will optimize travel time and relieve congestion at the regional station. Passengers will also be able to reach the airport directly from the south without needing to change trains at the Frankfurt am Main Stadion stop.
Design services with a focus on sustainability
Connection options were examined and evaluated in preliminary studies. A double-track line will connect the new Terminal 3 to the existing rail network. To achieve this, service on S-Bahn line S7 on the Mannheim-Frankfurt line (Riedbahn) will be branched off at 15-minute intervals between Zeppelinheim and Walldorf stations. The line will run underground through a tunnel at the airport. In addition, the new Terminal 3 station will be accessible every hour by RegionalExpress line RE70.
One of the major areas of focus of the design work has been on addressing challenging nature conservation concerns in the area. Locations where the line crosses areas with protected drinking water sources and fauna-flora habitats are being treated especially carefully. They are incorporated into relevant analyses of the planning area and impact assessments.
The project is being realized by the engineering consortium T3 (DB Engineering & Consulting, Sweco and Schüßler-Plan).
The regional and local rail passenger connection is scheduled to go into operation in 2030.
Project information
Design of an underground passenger station including a new-build line to connect to existing line 4010; design using BIM methodology
Infrastructure planning
Overall design management
Design of a new underground parking facility
New-build line
Open track, trough and tunnel
Services
Design services: basic evaluation, initial planning

Option 1: final design, planning for building permit application
Option 2: preparation of tender documents, evaluation of bids, negotiation and awarding of contracts

Station design together with Schüßler Plan
Control-command and signaling systems
Electrical and overhead line equipment
Environmental planning