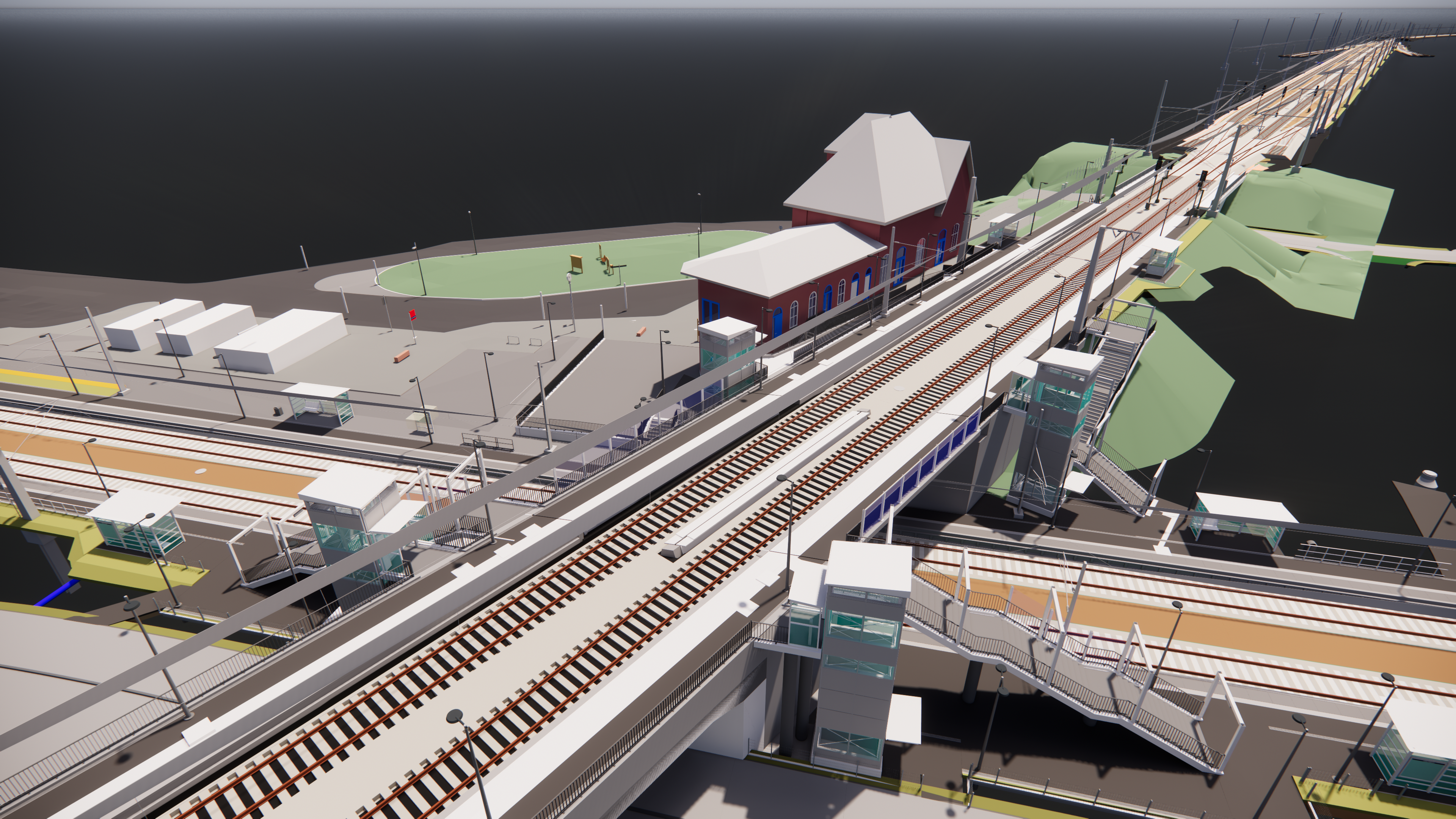 Upgraded line Berlin – Dresden and refurbishment of Doberlug-Kirchhain station, Germany
As part of the second construction stage of the upgraded line between Berlin and Dresden, the platform installations at the multi-level interchange station will be modernized and new connecting stairways and lifts will be installed.
The "Doberlug-Kirchhain upper-level station refurbishment" project is a further step towards realizing a continuous speed of 200 km/h on the Berlin–Elsterwerda line, complementing both the overall concept of the line and the reduction of travel time between Berlin and Dresden. The Doberlug-Kirchhain planning section consists of approx. 5 km of long-distance track and the Doberlug-Kirchhain multi-level interchange station. The multi-level interchange station is divided into an upper-level station for the Berlin–Dresden line and a lower-level station for the Halle–Guben line. As the lower-level Halle–Guben line has to be lowered, there is an additional rebuilding area of approx. 1 km of the double-track long-distance line. The project was planned in its different service phases using BIM methodology.
Project information
Structural measures to increase line speed to 200 km/h

Renewal of the grade separation structure and adjustment of the Berlin–Dresden line section in accordance with the track layout design and adjustment of the Halle–Guben line in the reconstruction area of the grade separation structure

Renewal of Doberlug-Kirchhain station

Road traffic routes

Type: national main road, connecting road

Transport infrastructure: rail

Underground cable installation

Permanent way/civil and underground engineering

Length of the rail line: approx. 5 km Berlin–Dresden line, approx. 1 km Halle–Guben line

Design speed: 200 km/h (Berlin–Dresden), 120 km/h Halle–Guben

Type of transport: passenger and freight

Station

Project type: new replacement

Station type: regional station

Number of platform edges: 4

Number of passengers/day: 2250

Planned project: platform installation and access routes

Module buildings for switchgear
Building systems engineering

Infrastructure: telecommunication systems and installation-related systems

Technical plant/equipment

Installations: 4 elevators

Line upgrade
Bridge

Project type: new replacement

Type of construction: reinforced concrete, steel

Bridge type: rigid frame bridge, steel trough

Number of planned tracks: 2

European Train Control System (ETCS)
Overhead line

Project type: new replacement

Number of bridges/tunnels: 6

Permitted speed: 200 km/h

Type: single mast construction

Lighting equipment
Geotechnical engineering

Geotechnical investigation, foundation consulting, geotechnical consulting

Surveying

Surveying: pre-construction surveying, design surveying

Electromagnetic compatibility (EMC)
Scope of services
BIM planning for the following subsystems

Supporting structure planning

Trackside equipment (CCS, overhead line equipment, 50Hz, telecommunications)

Plant, machinery and equipment

Surveying and BIM as-built modeling
Geotechnical consulting with geotechnical investigation