Eco-friendly logistics center at Erfurt intersection
April 7, 2022 – 10:14 am
DB Engineering & Consulting (DB E&C) is planning one of Germany's most modern logistics center in Arnstadt, about 25 kilometers south of Erfurt.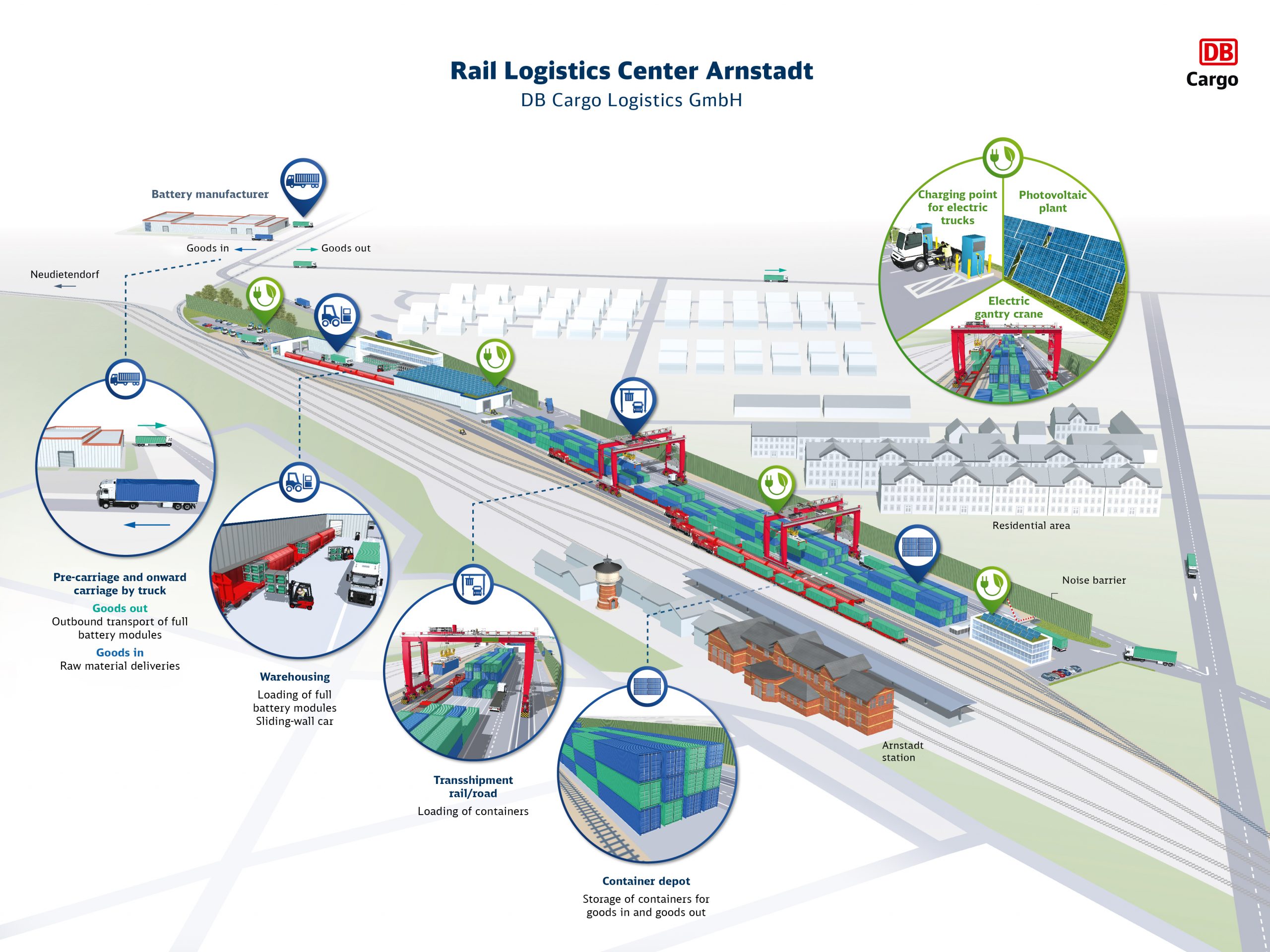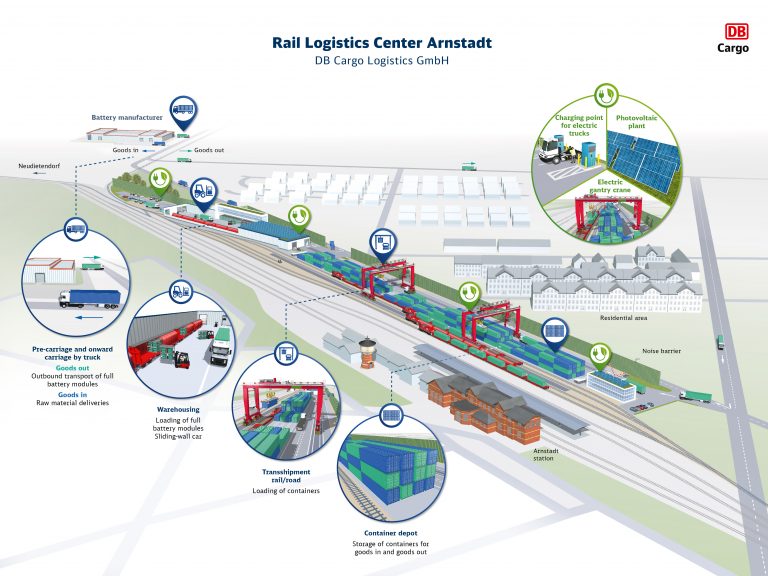 An innovation hub is being created in the oldest city in Thuringia: the almost forgotten Arnstadt yard is to be roused from its slumbers. DB E&C is planning one of Germany's most modern logistics centers there for DB Cargo Logistics. Goods are to be put straight onto the rails in an efficient, sustainable and innovative process at the Rail Logistics Center. Up to four freight trains are to be loaded and unloaded every day.
Companies located around the Erfurt intersection are expected to benefit most. The industrial park near Arnstadt is the largest in Thuringia. The logistics center will give around 120 companies with more than 16,000 employees fast access to the railroad.
Efficient, innovative, sustainable and eco-friendly
Planning is focusing on sustainable and highly digitalized operations: Deutsche Bahn will be deploying electric trucks for transport between the industrial park and the logistics center. Photovoltaic systems are being planned on all buildings in close cooperation with DB Energie. These will supply environmentally friendly electricity for loading the trucks as well as for operating the loading facilities. Crane systems with low-noise lowering and lifting equipment (soft landing) will also help to prevent noise emissions. A lighting concept with LED luminaires will reduce light emissions. Noise barriers are also planned. Digital processes, a high degree of automation, innovative equipment, top safety standards, and a holistic ecological concept: a pioneering logistics center with model character is being built in Arnstadt.
With the Rail Logistics Center, even more goods can be shifted from road to environmentally friendly rail – in a sustainable and climate-friendly way. The green logistics center will save 2.3 million truck kilometers. That is the equivalent of 2,822 short tons of CO2 savings. To give you an idea of what this means, a beech tree has to grow for about 80 years to absorb one short ton of CO2.
Schedule for the yard
Construction work on the logistics center is expected to start in spring 2023. DB E&C experts are currently working on the tender documents and coordinating the various disciplines.
---
Key data on the Arnstadt Logistics Center:
Approx. 2.900 m of track
Transshipment of, among other things, lithium-ion batteries in transshipment hall (~4,400 m²) with warehouse for intermediate storage.
Transshipment hall: Hall length 175 m (=7 sliding-wall cars). Loading lane for 7 semi-trailer trucks + passing lane: towing curves designed so that the semi-trailer trucks can switch from the loading lane to the passing lane
Office and social building (~ 1,600 m²)
CT area (CT = combined transport) ~4,700 m² container yard with two electric rubber-tired gantry (RTG) cranes for container loading.
Container depot with space for a total of 288 containers divided into 4 blocks; 3 traffic lanes (2 under the crane; 1 through lane for traffic to the hall), with various tracks
Dispatch tower incl. check-in area (~500 m²)
Photovoltaic systems (cooperation with DB Energie)
Terminal infrastructure, e.g. parking areas, noise barriers
Drainage, restored land for ecological compensation
Contact
Sarah Geißler
Head of
Marketing & Communications
DB Engineering & Consulting
EUREF-Campus 14
Torgauer Strasse 12-15
10829 Berlin
Germany
E-Mail
---
Our news categories