Historical restoration work and state-of-the-art rail technology
August 4, 2022 – 7:24 am
From Berlin to Regensburg via Leipzig and Erfurt, Deutsche Bahn will be investing heavily in the rail infrastructure in southeastern Germany in the coming years. Here are the largest construction projects at a glance.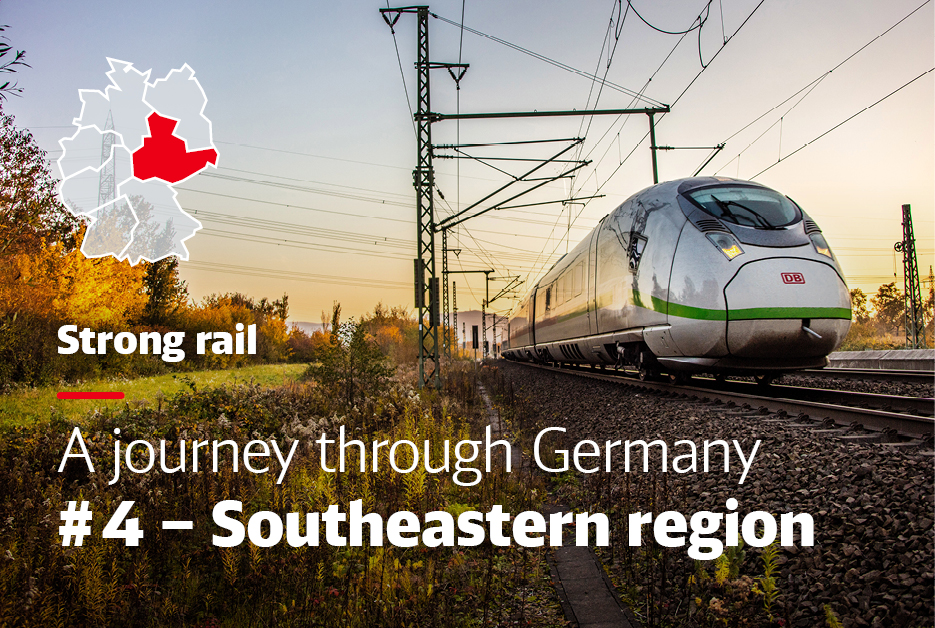 Contact
Sarah Geißler
Head of
Marketing & Communications
DB Engineering & Consulting
EUREF-Campus 14
Torgauer Strasse 12-15
10829 Berlin
Germany
E-Mail
---
Our news categories
Creating Strong Rail in Germany: With record investment from the federal and state governments, rail transport is being upgraded and expanded faster than it has in years. Following our look at projects in Northern, Southern and Central Germany, our journey today continues to Southeastern Germany. Projects being conducted there range from the restoration of a 170-year-old viaduct to one of Germany's most modern logistics centers.
Electronic interlockings for the Saxony-Franconia mainline
Section of the Saxony-Franconia Magistrale in Zehma

Construction of an auxiliary bridge in Zehma
The Saxony-Franconia mainline is part of the eastern corridor, which connects the Port of Hamburg with Regensburg via Magdeburg and Leipzig. Two new electronic interlockings are being built in Neukieritzsch in Saxony and Gössnitz in Thuringia and are scheduled to go into operation between Fall 2022 and Summer 2023. Bridges, viaducts, tracks and switches are being renewed along the entire route. With speeds up to 160 km/h, the Saxony-Franconia mainline will be equipped to meet the needs of modern rail transport. DB Engineering & Consulting is providing management and consulting services for all aspects of putting the interlockings into operation and is preparing dossiers in accordance with the Regulation on the Authorization for Commissioning of Railways (EIGV).
Elster and Heiligenborn Viaducts
The Elster Viaduct, which was built in 1851, is located on the 288 kilometer rail link between Leipzig and Hof, Bavaria, one of the central sections of the Saxony-Franconia mainline. The historical structure will be gradually repaired by 2025. Crossovers are being built in the neighboring villages of Jocketa and Liebau to maintain traffic during the work and to prevent work windows wherever possible. Construction is being coordinated with the upgrade of the entire Saxony mainline. DB Engineering & Consulting is responsible for planning construction operations, coordinating work windows and providing support through consulting services for the duration of construction. The Jocketa crossover will remain in place even after construction is completed, making traffic more fluid and making the connection between Saxony and southern Germany more attractive for travelers and transport companies alike.
DB Engineering & Consulting has spent more than five years working on restoring the Heiligenborn Viaduct between Riesa and Chemnitz, which is protected as a historical monument. DB Engineering & Consulting was responsible for all construction management, from design to completion of work, on the 170 meter long and 40 meter high structure. It also provided additional design work, including final design, planning for building permit application, planning for contract award procedures, and expert opinions on geotechnical engineering and environmental aspects. The site is unusual in that the signaling technology needed to carry out construction on this scale was not available in the area. In order for construction to take place at all, 28 kilometers of cable and 35 kilometers of switching wire alone needed to be installed for the control-command and signaling systems. Construction was a success, and the viaduct opened at the end of 2020.
Eco-friendly logistics center at the Erfurter Kreuz industrial park
DB Engineering & Consulting is working on behalf of DB Cargo Logistics to design one of Germany's most state-of-the-art logistics centers 25 kilometers south of Erfurt, in the largest industrial park in Thuringia. The Arnstadt freight yard, which has long been closed, is being revived for the project. In addition to the yard itself, with its nearly 3,000 m of tracks and 4,700 m2 of space for containers, construction will also include a number of measures to improve sustainability, such as noise barriers and low-noise crane systems to protect wildlife. Photovoltaic systems on the buildings, which are being designed in cooperation with DB Energie, will supply the center with green electricity. Electric trucks will be used to transport containers between the industrial park and the logistics center. Restored land will minimize the environmental impact of construction, which is scheduled to begin in Spring 2023. The new logistics center will play a major role in strengthening the region since it will give some 120 companies and their more than 16,000 employees faster access to rail. Deutsche Bahn is investing some EUR 280 million in all in Thuringia's rail lines, stations and stops in 2022. Around 90 engineers and skilled workers are being hired for upgrades and maintenance for the upcoming construction.
These projects are examples of the importance of expanding rail transport in Germany. Through its services, DB Engineering & Consulting contributes every day to strengthening rail and creating an environmentally friendly and sustainable transport network for Germany.