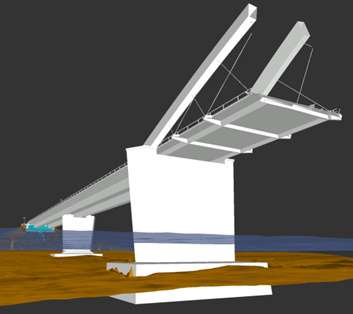 Fehmarn Sound crossing, Germany
Today, traffic crossing the Fehmarn Sound uses a combined road and rail bridge. A new fixed connection between Fehmarn and the mainland is intended to meet performance and safety needs arising from future traffic expectations.

Working on planning activities together with ZPP, DB E&C among other things has been commissioned to deliver the preliminary design for the tunnel-based proposal. BIM is used parallel to conventional planning activities.
Scope of services:
Planning consortium with ZPP
Basic evaluation, preliminary design
BIM: 3D situation assessment, 3D situation modeling, visualizations, 3D planning model, 3D track and proposal comparison, drafting of 2D plans based on 3D models, 4D modeling for describing the construction process, 5D modeling for describing the cost trend, object-based identification of quantities, development of a dynamo-based script for the creation of clearance gauge / tracks, creation of a "virtual reality" (real-time visualization) as a desktop or HTC-Vive variant Visualization