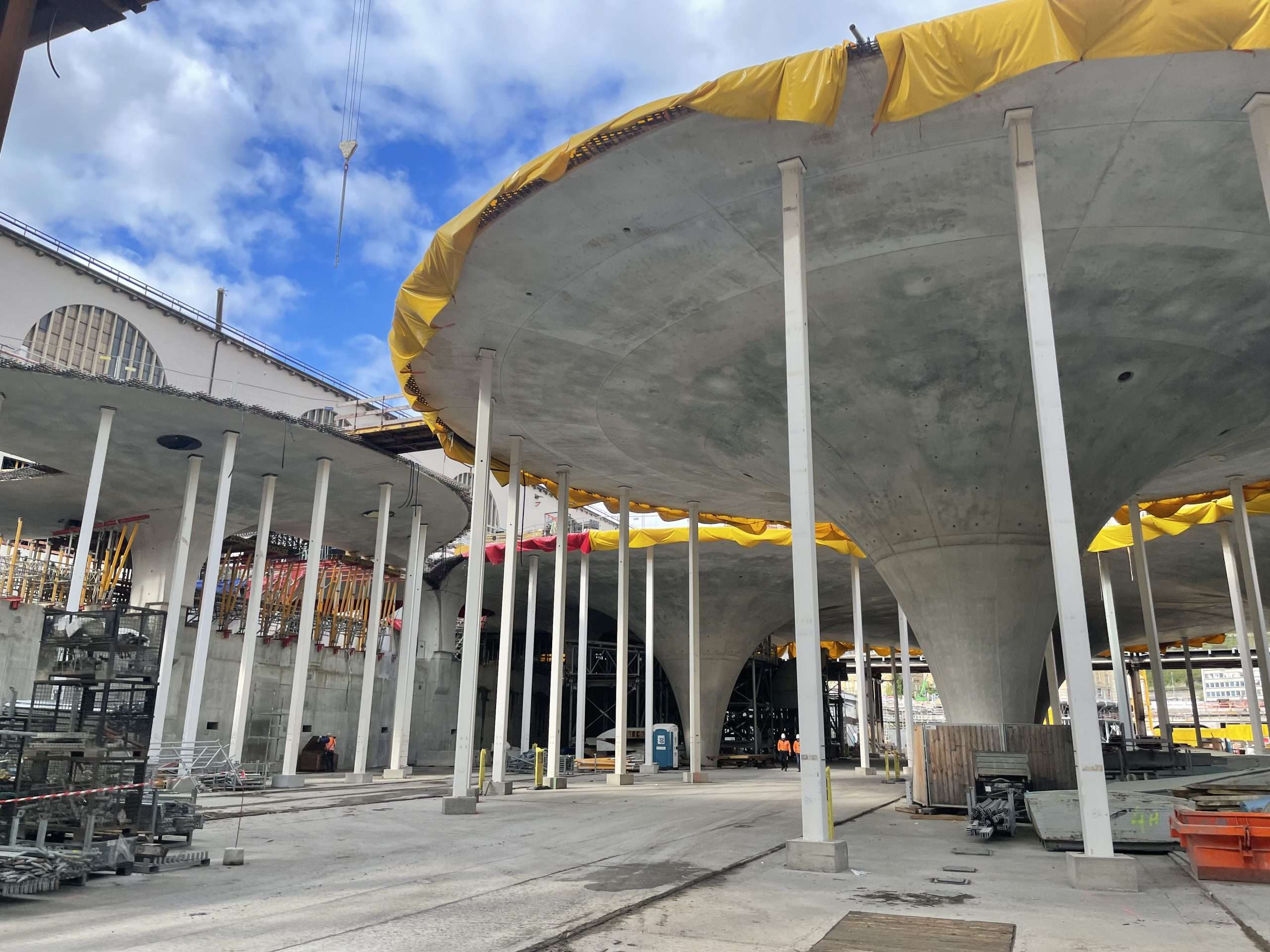 S-21 underground station (Stuttgart Main Station)
The Stuttgart 21 project involves redesigning the Stuttgart rail hub and converting the existing 16-track stub station into an eight-track lower-level through station, which will be rotated by about 90 degrees from its current orientation. The new main station will be connected by underground feeder lines from Feuerbach, Bad Cannstatt, Obertürkheim, Untertürkheim, and the Filder plateau. The storage sidings and maintenance facilities at the edge of Rosenstein Park will be relocated to the site of the current Untertürkheim freight yard.
The scope covers construction of the new long-distance rail tunnel and the station concourse, the western main drainage channel and Cannstatter Strasse and main Nesenbach main drainage channel, the Kurt-Georg-Kiesinger-Platz district heating and media duct, the Schlossgarten media duct, reconstruction of the S-Bahn and demolition of various facilities in the way.
Project data
North end of the tunnel using cut-and-cover construction
Concourse:

Chalice-shaped pillars and shell roof

South end of the tunnel using cut-and-cover construction
Bridging of the existing S-Bahn (S-Hbf-Tief) with a pre-stressed concrete bridge
Services
Construction supervision
Electronic construction log book (for the client, overall)
Preparation and coordination of expert assessments
Monitoring and coordination of construction site safety together with the health and safety coordinator
Implementation management
Design review for completeness and approval of all technical inspectors involved
Construction supervision and waste management documentation
Coordination and acceptance for support structures and states of construction
Coordination of the technical acceptance tests (welding engineer) for off-site production
Preparation of construction documentation handover