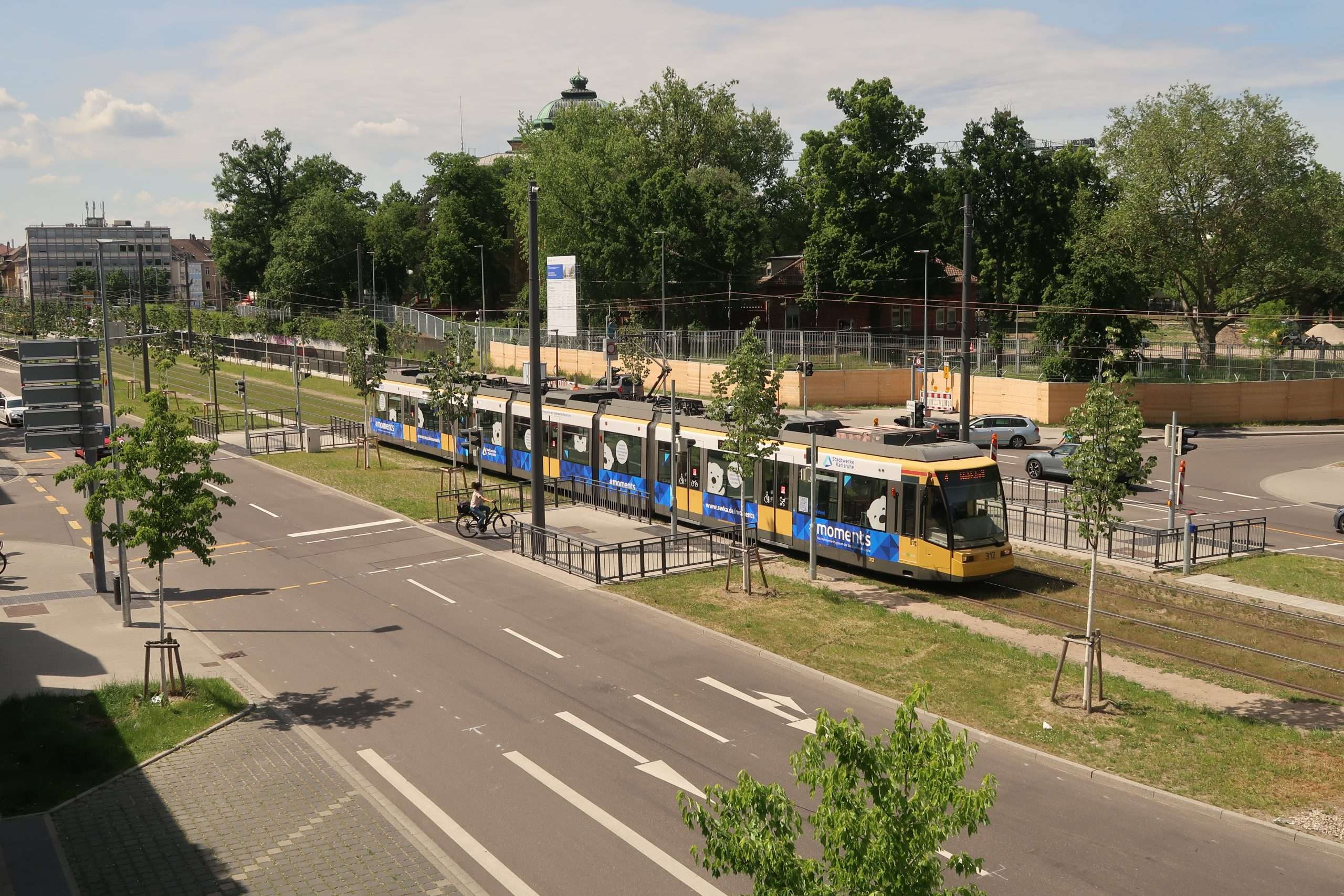 "Kombilösung Karlsruhe" – construction of new above-ground tram with a new road tunnel
The design for the Kriegsstrasse tram is part of the "Kombilösung Karlsruhe," a combined transport solution that includes the construction of a new tram running below Kaiserstrasse and the redesign of Kriegsstrasse, which runs parallel, to create a tram line and road tunnel.


DB Engineering & Consulting GmbH is part of the design consortium with BUNG Ingenieure AG that was tasked with designing the new Kriegsstrasse tram line and road tunnel.

The B10 federal highway (Kriegsstrasse), which previously had up to ten lanes, was completely redesigned along a 1.8 km section within the city. In addition to integrating the tram, the project also made significant improvements to the area, for example by transforming the highway into an avenue with four rows of trees along almost the entire length of the section.

The tram line runs on its own track substructure and superstructure and connects to the existing lines at Karlstor, Mendelssohnplatz, Kapellenstrasse and Ludwig-Erhard-Allee. Multiple new ground-level crossings for pedestrians and cyclists were added to better connect the two sides of Kriegsstrasse.

The road tunnel on Kriegsstrasse has separate tubes, one for each direction of travel. In order to optimize use of the tunnel's capacity, there are four ramps for entrances and exits at various points, in particular to relieve traffic at the signaled intersections above.
Project data
Conversion of a 1.8 km long main road in the city center into a tram line designed similarly to an avenue
Designing and conversion of transport infrastructure:

Track layout for the tram
Construction of 5 new stops
Layout for road lanes
Redesign of 4 junctions

New construction of a road tunnel using cut-and-cover construction with 4 ramps (entrances and exits)

Traffic management design during construction
Services
Site design for transport facilities in HOAI phases 1-6 for roads, tram tracks and 4 tram stops.
Construction phase planning and design and traffic management for motor vehicles, cyclists and pedestrians during construction, including developing plans for road markings and traffic signs to maintain traffic during construction