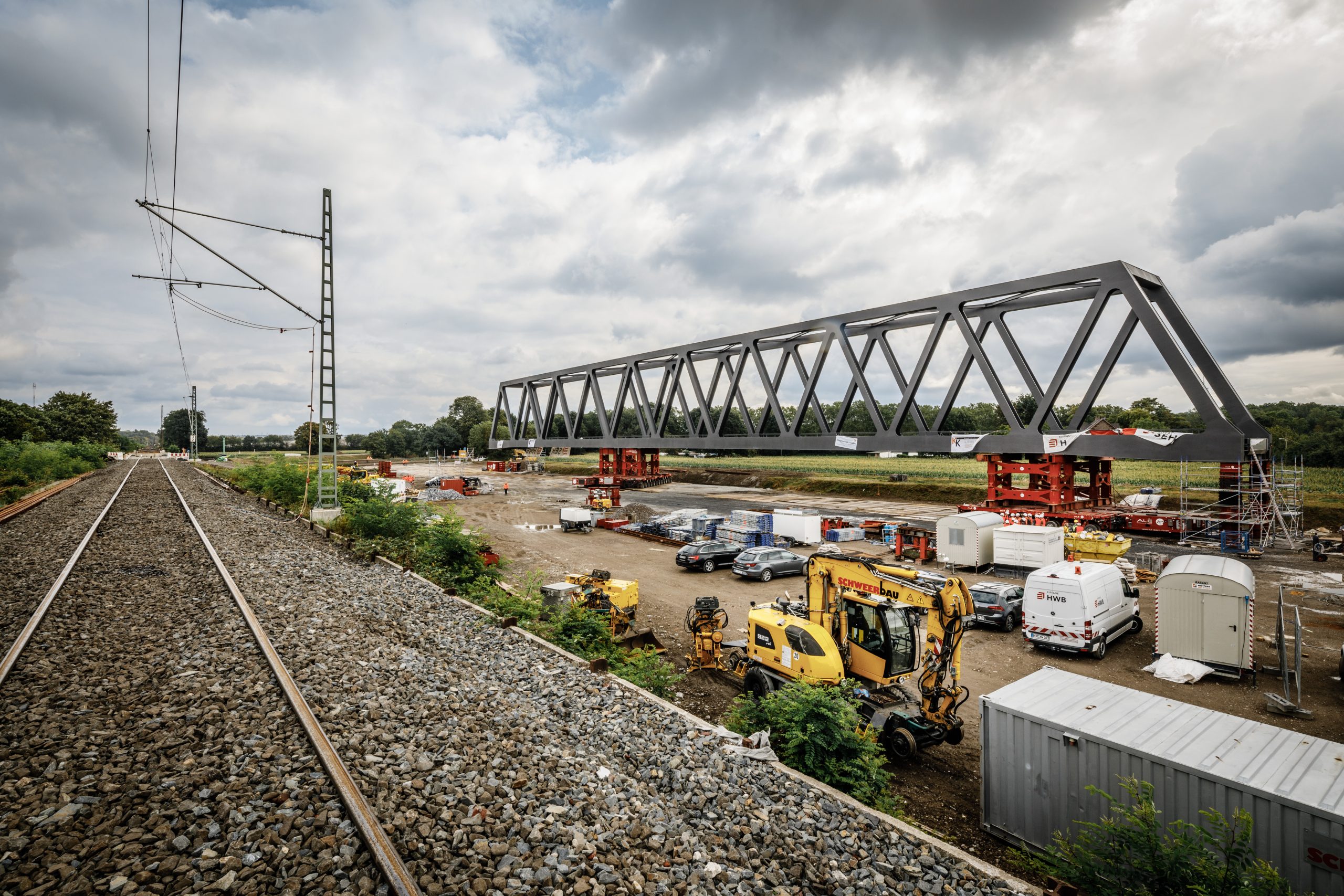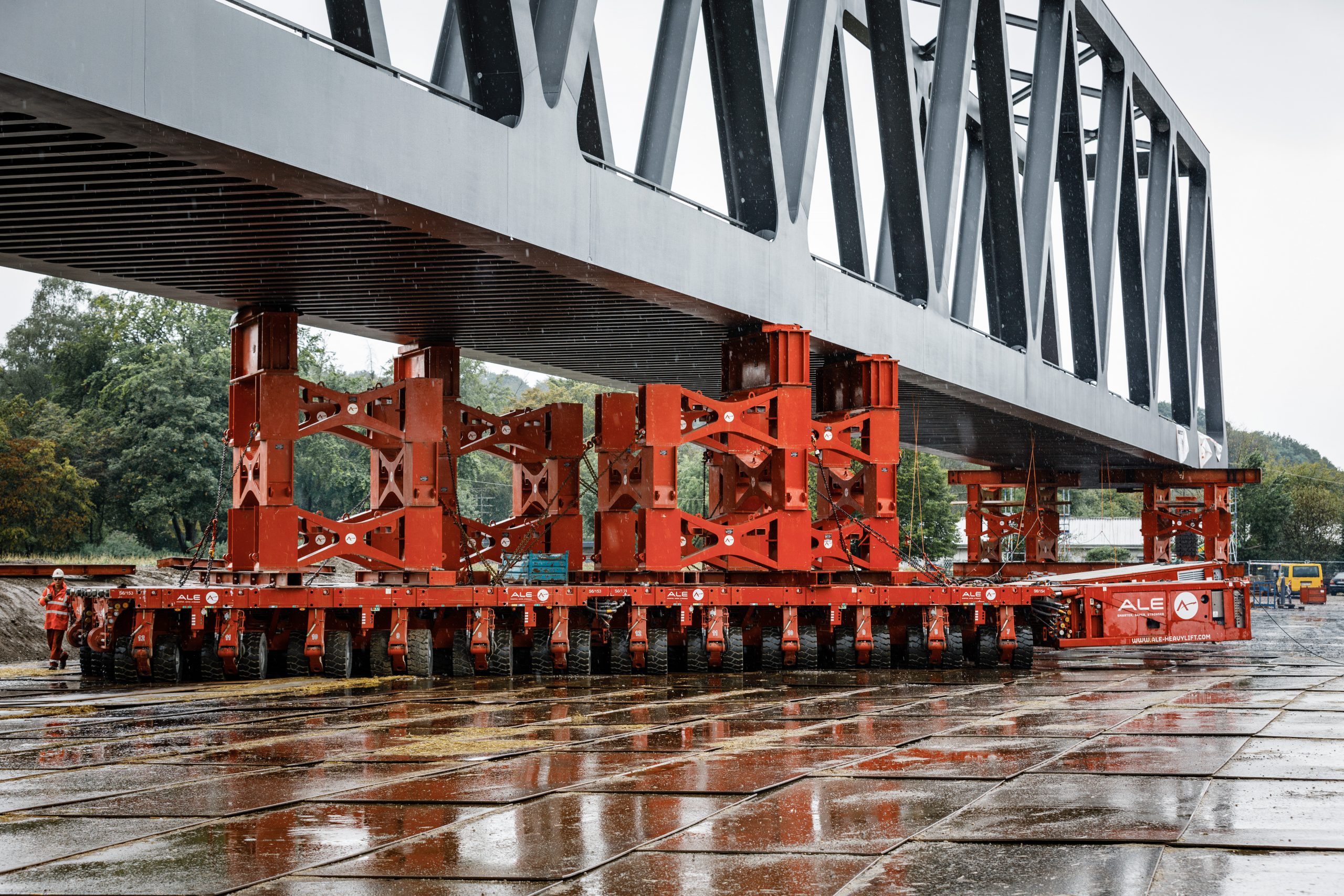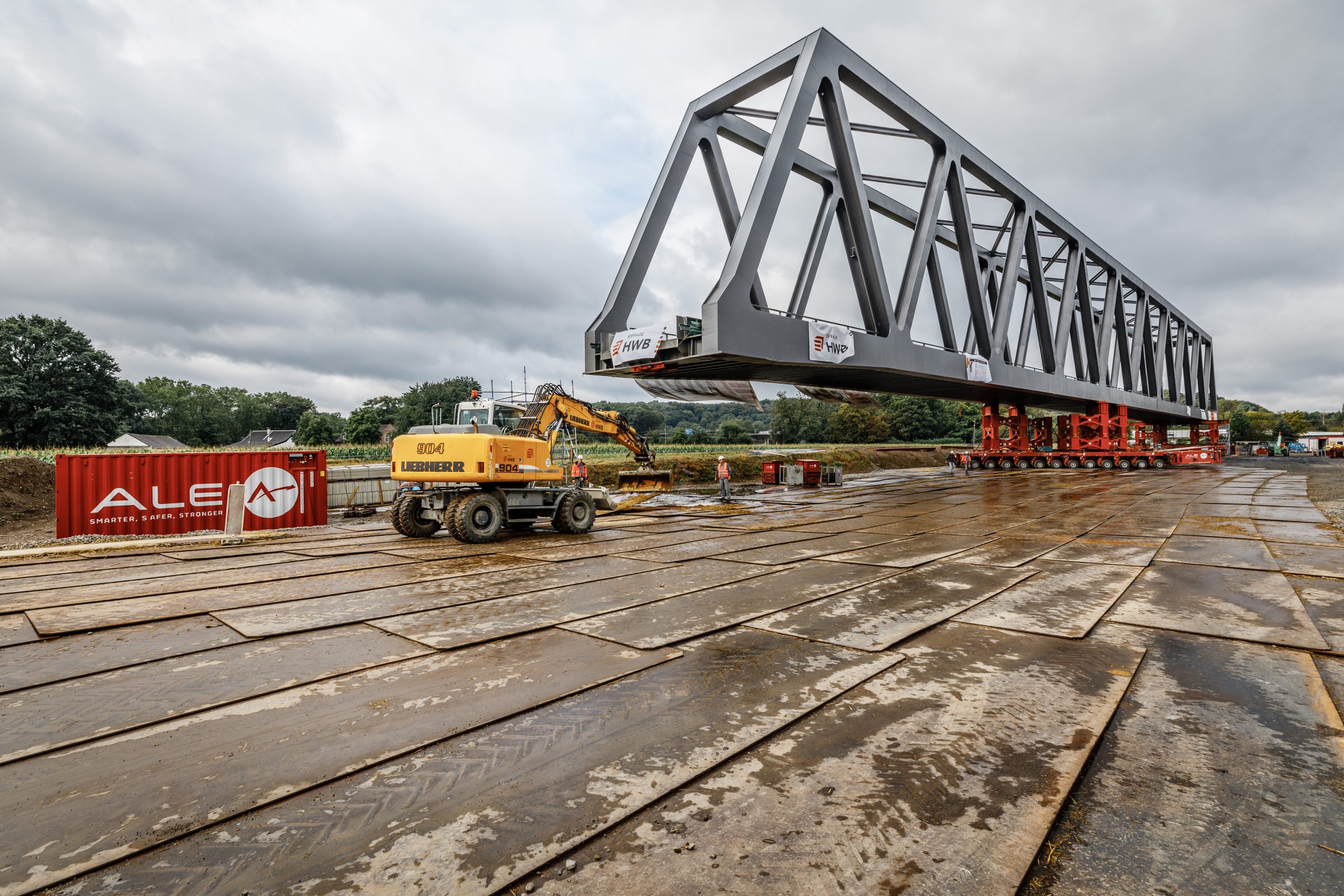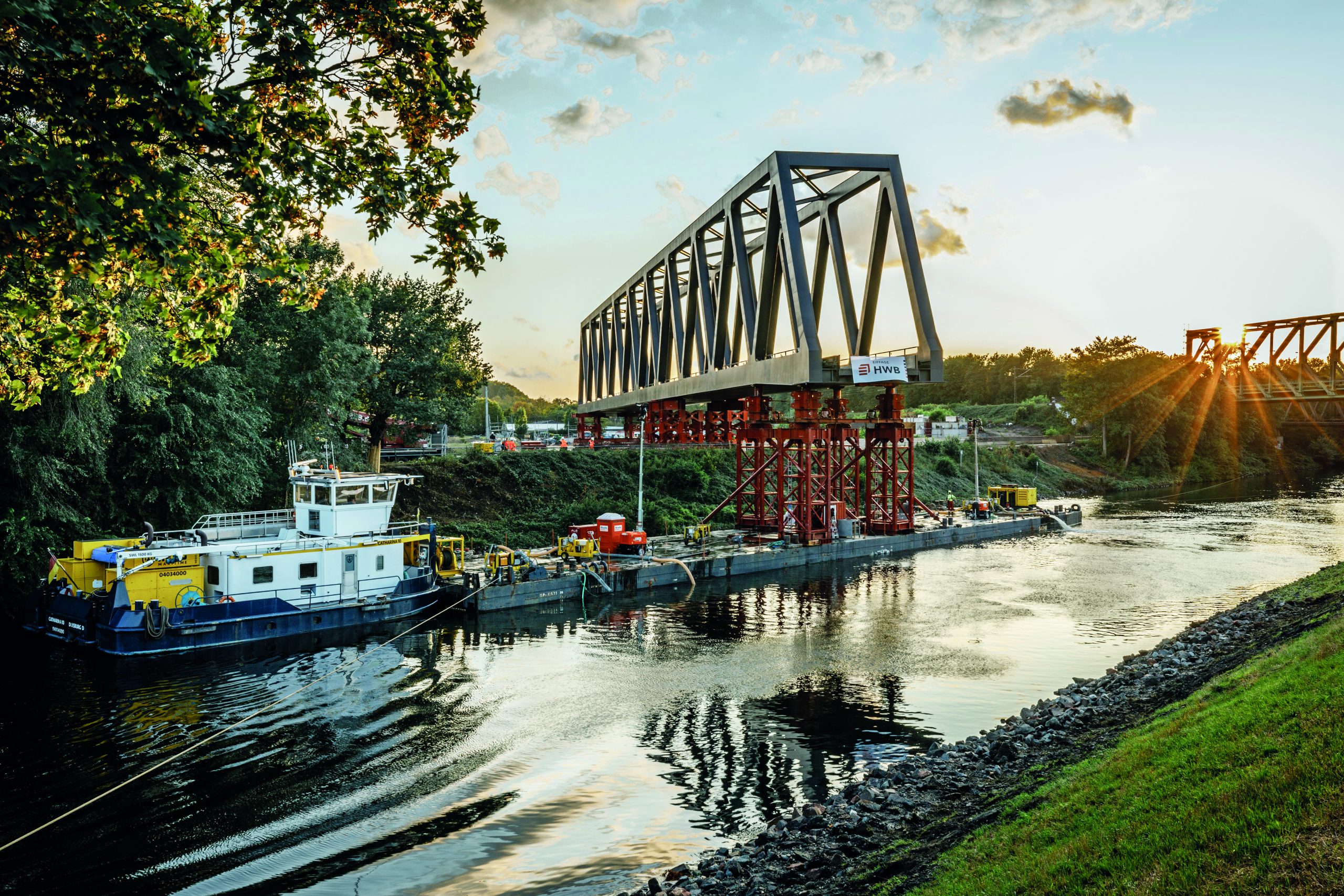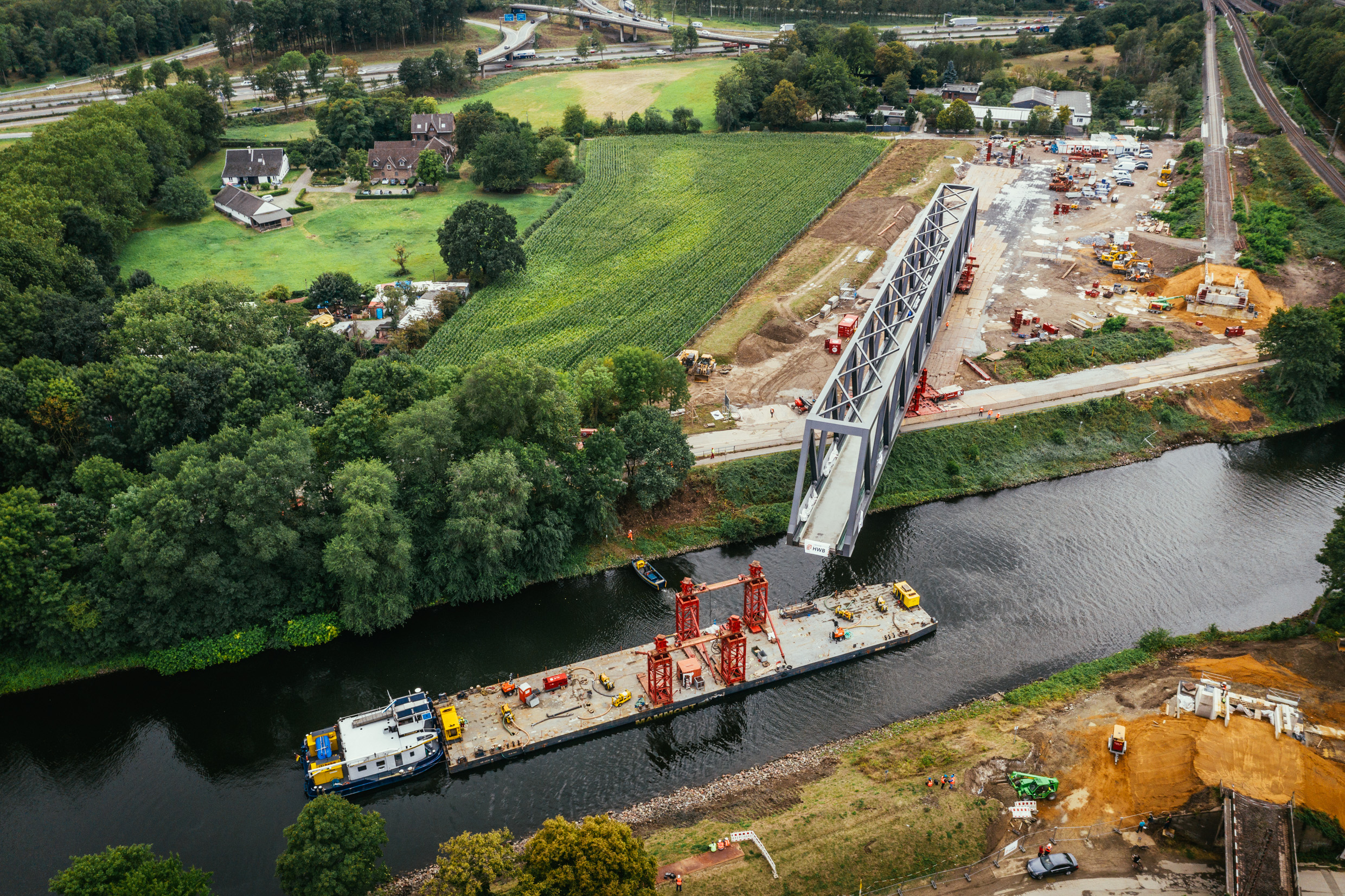 New construction of the railway overpass Ruhrkanalbrücke, Germany
June 2, 2020 – 1:55 pm
The electrified line Duisburg – Oberhausen between Duisburg and Mülheim a.d. Ruhr crosses the Ruhr Canal, a waterway which is about 45 m wide at this point. The bridge also spans the L140 (Ruhrorter Straße) as well as a bicycle and footpath.
The originally existing old building was a two-span steel truss bridge without continuous action with substructures of natural stone and concrete from 1911, which had to be replaced due to its condition. The railway overpass was built in a comparable construction method as a replacement construction with steel framework superstructure including new bridge abutments as a single-track, single-span bridge. The substructures, consisting of abutment and parallel wing walls and pile head slabs in the protection of auxiliary bridges, were constructed on reinforced concrete bored piles during largely continuous railway operation. Bored piles with a diameter of around 1.20 metres and a length of up to eight metres were driven into the ground for the abutments at both ends. The new steel superstructure was pre-assembled in a lateral position southwest of the existing bridge.
For the later shifting of the superstructure into the final position, auxiliary structures in the form of supporting scaffolds with foundations were manufactured. The Ruhr Canal Bridge is completely prefabricated on assembly supports at final height at the assembly site and from this point it is moved onto shunting vehicles and pontoon and blurred into its final position. The distance to be covered was about 200 metres in the direction of the track axis and 50 metres laterally.
In the course of the construction activities, all track systems were relocated and the overhead line was converted and partially renewed. The supply lines (nitrogen, oil, telecommunications, gas and waste water) were laid as a culvert pipeline under the Ruhr Canal since the supply could not be interrupted for more than two days.
Scope of services:
Construction supervision in the truss OLA, 50Hz, KIB and LST
Environmental construction supervision
Takeover of the function SiGeKo
Construction supervisor railway according to VVBau & VVBau STE
Occupation of the curfew breaks according to construction operations planning
Specialist construction supervision on site
Participation and conducting of construction meetings, support of the AG in case of contractual discrepancies, coordination tasks
Construction operations planning