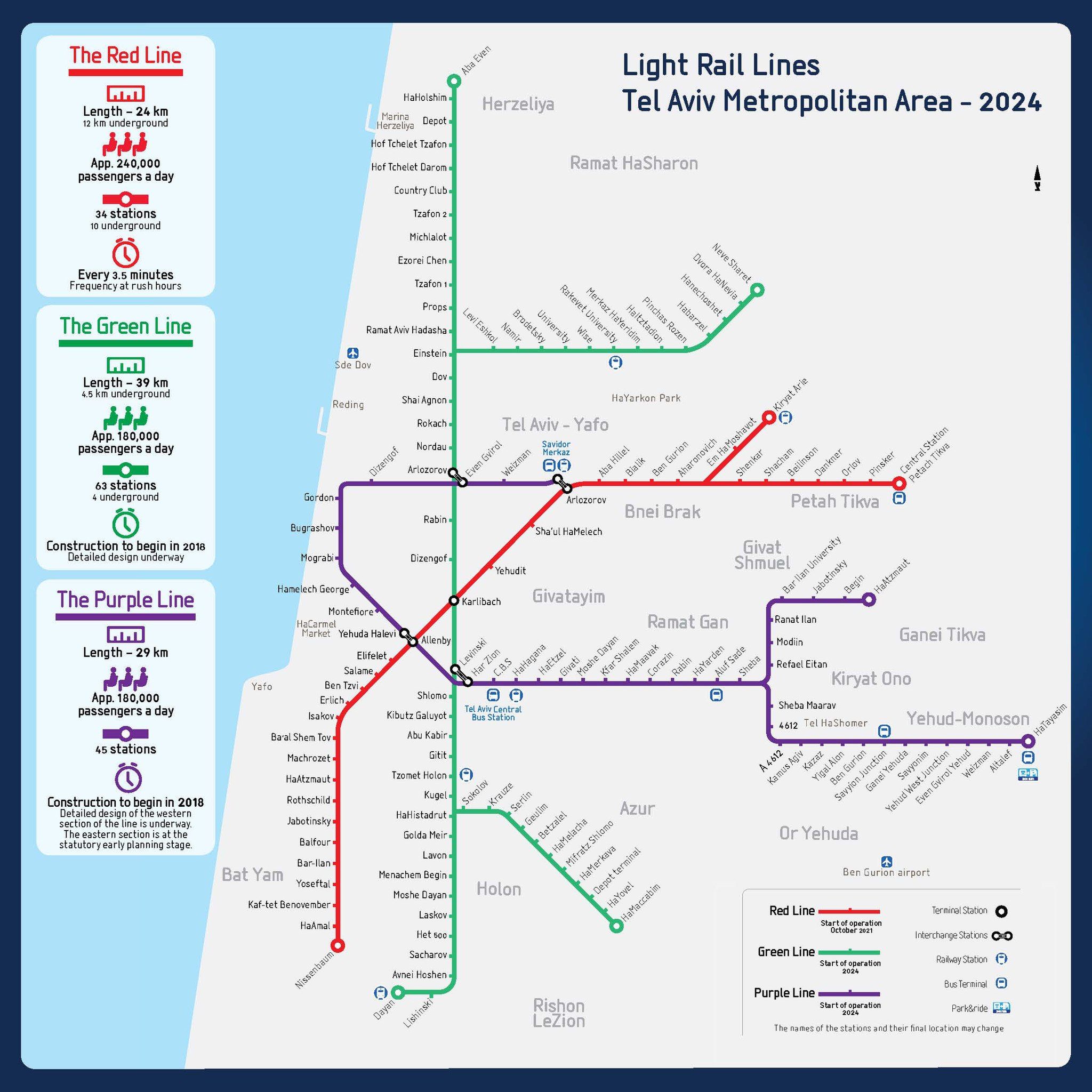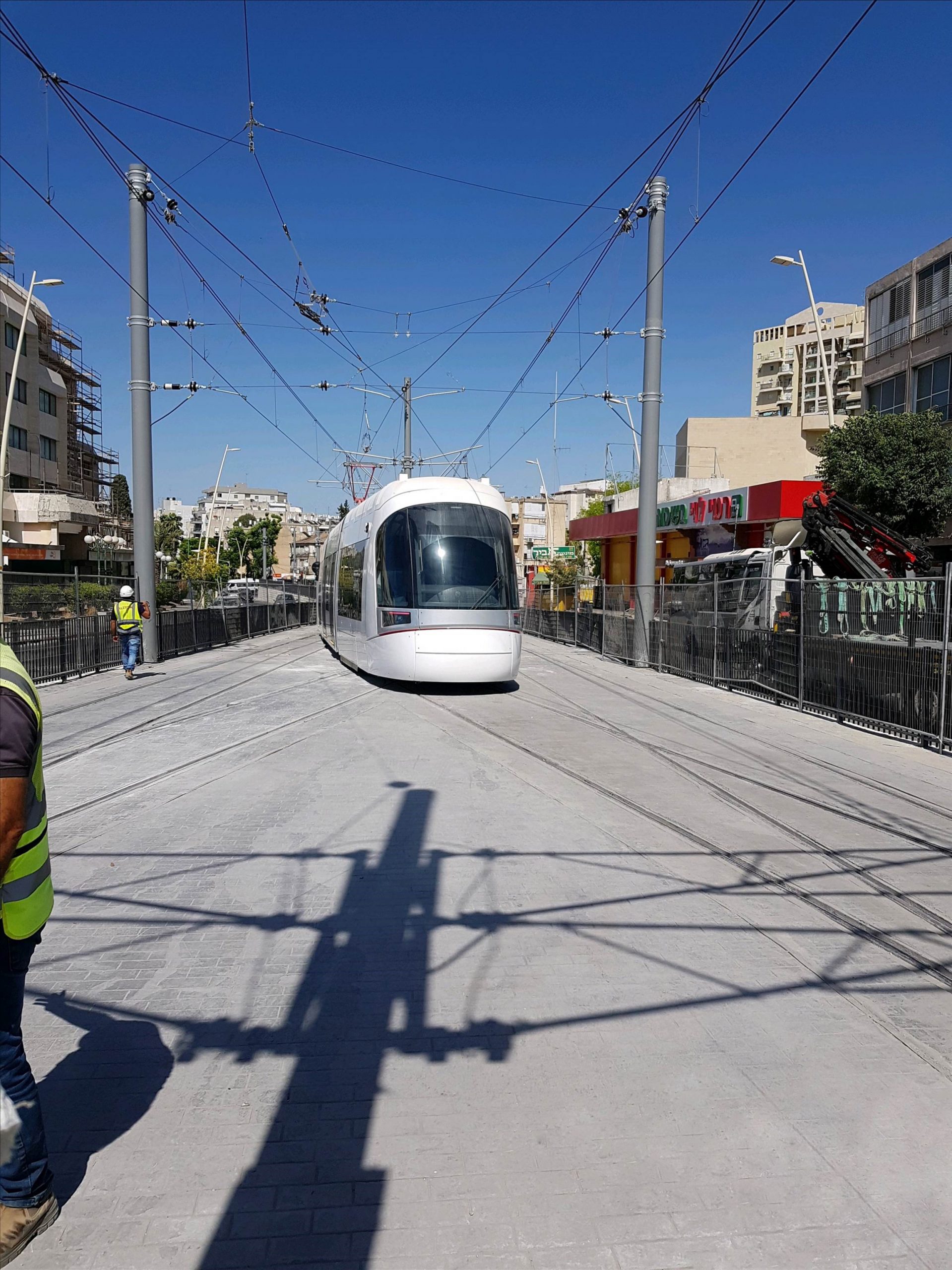 Light Rail Transit System Integration, Tel Aviv, Israel
A state-of-the-art light rail transit system
The growing demands on urban mobility have led to the development and construction of an efficient, state-of-the-art, reliable, fast-access and environmentally-friendly MRT (Mass Rapid Transit) system for the Tel Aviv metropolitan area.  It consists of three planned light rail transit (LRT) lines.
Red Line
The Red Line is the first of the planned light rail transit lines. DB Engineering & Consulting is working as a subcontractor of the Chinese consortium CRTG-EEB, which in turn is the principal contractor of NTA, the customer in this project.
The Red Line is operated as a high-frequency rail system to provide fast, efficient, and convenient service at the highest level of safety, reliability, and punctuality. To meet peak demand, it is currently assumed that the frequency of the light rail services will be 5 minutes in the ground level sections and 2.5 minutes in the underground sections
The light rail vehicles will operate at ground level under the conditions of line of sight driving (LOSD) and limited Automatic Train Protection (ATP) functionality, while the light rail vehicles will operate in the metro sections and on the Kiryat Arveh branch with Automatic Train Operation (ATO) and full ATP. Operation is on the UIC standard track gauge (1,435 mm). The underground section consists of double tunnels with a diameter of 6.5 m and cross gangways allowing emergency exits via the neighboring tunnel in case of an incident in one of the tunnels. The entire light rail transit line will be electrified with 1500 V DC from the overhead line. The control center and depot, which is used for stabling, servicing, and maintaining the entire Red Line LRT fleet, is located in Petach Tikva.
Scope of services
Interface management
Carrying out processes according to EN 50126 (RAMS)
Requirements management, configuration management and risk management
Checking railroad equipment for compatibility with system integration
Consulting for the entire Red Line – provision of key experts in the fields of trackwork, power supply, communications, control-command and signaling
Purple Line
We are involved in the Purple Line project on behalf of our client Yenon Research and Design Ltd. The line connects the towns of Kiryat Ono and Yehud, located east of Tel Aviv, with downtown Tel Aviv.
The Purple Line in Tel Aviv is planned as a ground-level electrified light rail transit line with 1,500 V DC. The depot where vehicles are to be maintained and stabled will be located at the eastern end of the Purple Line in Hatayasim. The control center and track maintenance base will also be located on the site of the depot in Hatayasim. The vehicles will operate with driving on sight and can be located by AVLS (Automatic Vehicle Location System). For the most part, vehicles operate on a dedicated track system; overpasses and underpasses are planned for crossings with highways, LRT lines and the railroad.
Scope of services
Drafting tender documents for design, track and depot construction and procuring light rail transit vehicles (LRV)
Planning tender for track layout and track geometry, electrification systems, control-command and signaling, communication and control systems, light rail vehicles (LRV), Hatayasim depot, operations control center (OCC Purple Line), and operation and maintenance tasks
Definition of the technical specifications and compilation of the tender documents
Responsibility for general construction supervision