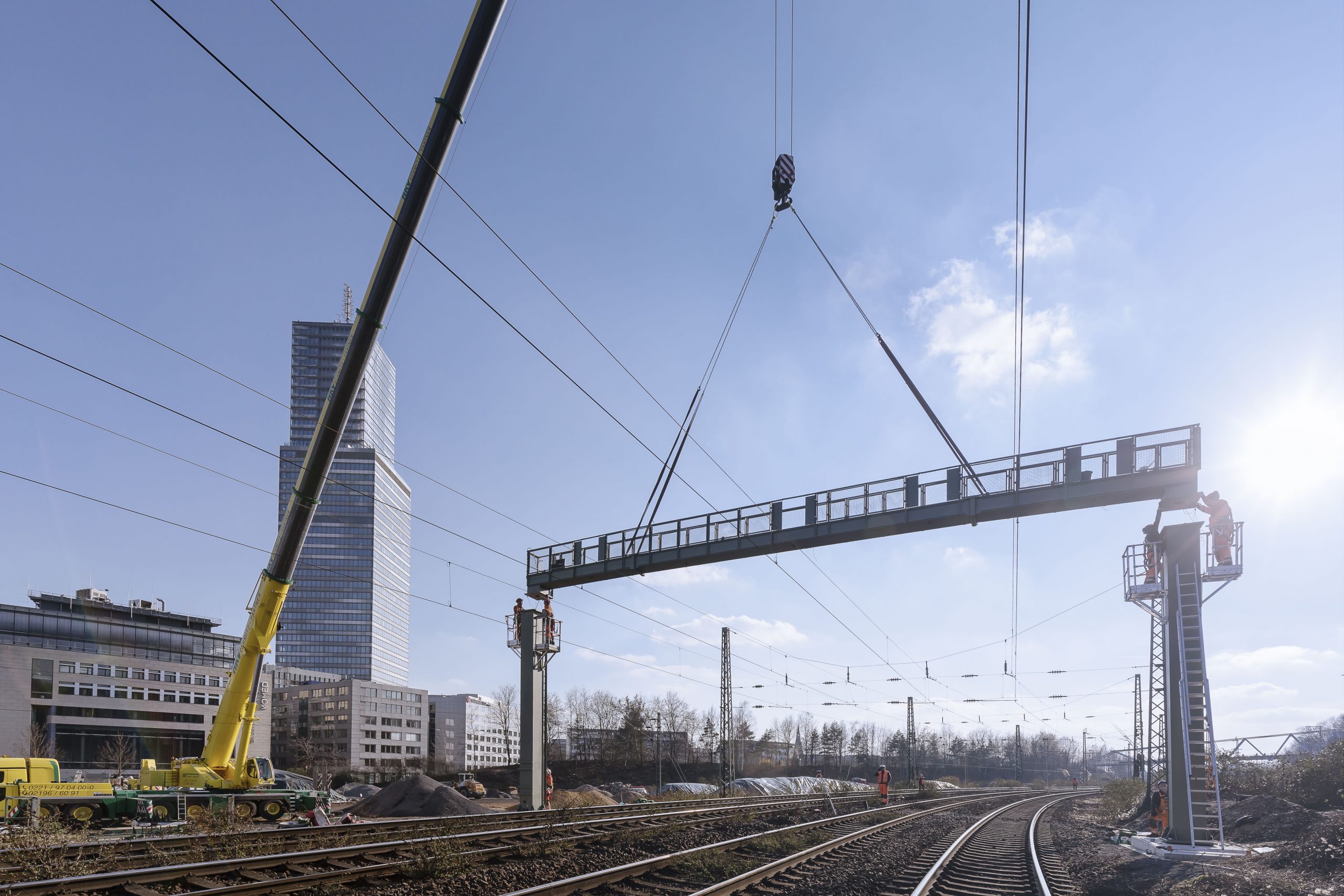 New construction of Cologne Central Station and Left Bank of the Rhine electronic interlockings
Cologne Central Station is an important hub for regional, national and European rail traffic. With more than 1300 train movements a day and a capacity utilization of up to 100 percent, it is one of the busiest German rail stations.
To prepare the Cologne hub for future requirements and to bring it up to the current state-of-the-art, extensive modifications of the control-command and signaling systems are necessary. The centerpiece is the renewal of the interlocking technology in the area of Cologne Central Station and the adjacent line sections in the urban area on the left bank of the Rhine.
ESTW Köln Hbf (Cologne Central Station Electronic Interlocking): In the first commissioning stage of the ESTW Köln Hbf, an ESTW-Z (central electronic interlocking) for commuter rail traffic will be implemented. In a second stage of commissioning in 2024, the ESTW-Z S-Bahn for suburban trains will be converted to an electronic interlocking subcenter (ESTW-UZ) and the second ESTW-UZ Fernbahn for the mainline railroad will be implemented.
ESTW linke Rheinseite (Left Bank of the Rhine Electronic Interlocking): The interlocking technology of Cologne West, Cologne South and Hürth-Kalscheuren stations will be renewed and replaced by an ESTW-Z. For this purpose, a modular building will be erected in Cologne West (Mediapark) and an A-type electronic interlocking (ESTW-A) will be set up in Hürth-Kalscheuren. Telecommunications systems, point heating stations, track area lighting, automatic train control and the overhead line will also be renewed.
The quality and punctuality of trains will be enhanced by increasing the service frequency and improving the efficiency and performance of the signaling equipment, thereby reducing susceptibility to faults and increasing flexibility.
Project information
Length of track/control areas:

ESTW-UZ Köln Hbf suburban: 8.445 km
ESTW-UZ Köln Hbf mainline: 7.158 km
ESTW linke Rheinseite: approx. 16 km

Controlled elements:

ESTW Köln Hbf: 142 signals, 10 signal gantries,
277 additional signals
ESTW linke Rheinseite: 130 signals, 45 of these at signal gantries, 137 additional signals

Equipment for bidirectional running
Erection of a modular building for the central interlocking (ESTW-Z) in Cologne West (Mediapark)
Installation of an A-type interlocking (ESTW-A) in Hürth-Kalscheuren
3 x overhead contact line backup system (NEA-OLA)
Building in the existing stock
Observance of a comprehensive lightning protection concept
Services
The construction supervision services were provided in an engineering consortium with the company Vössing (50/50%):

Technical construction supervision for building construction, transport infrastructure, control-command and signaling systems, 50 Hz electrical engineering and overhead line equipment
Construction and operations planning: commissioning concept, construction phase design
Environmental, immission control and geotechnical construction supervision
Geotechnical consulting
SiGeKo services

Previously (only ESTW Köln Hbf): technical design for control-command and signaling systems and electrical power systems
Authorization to submit construction documents