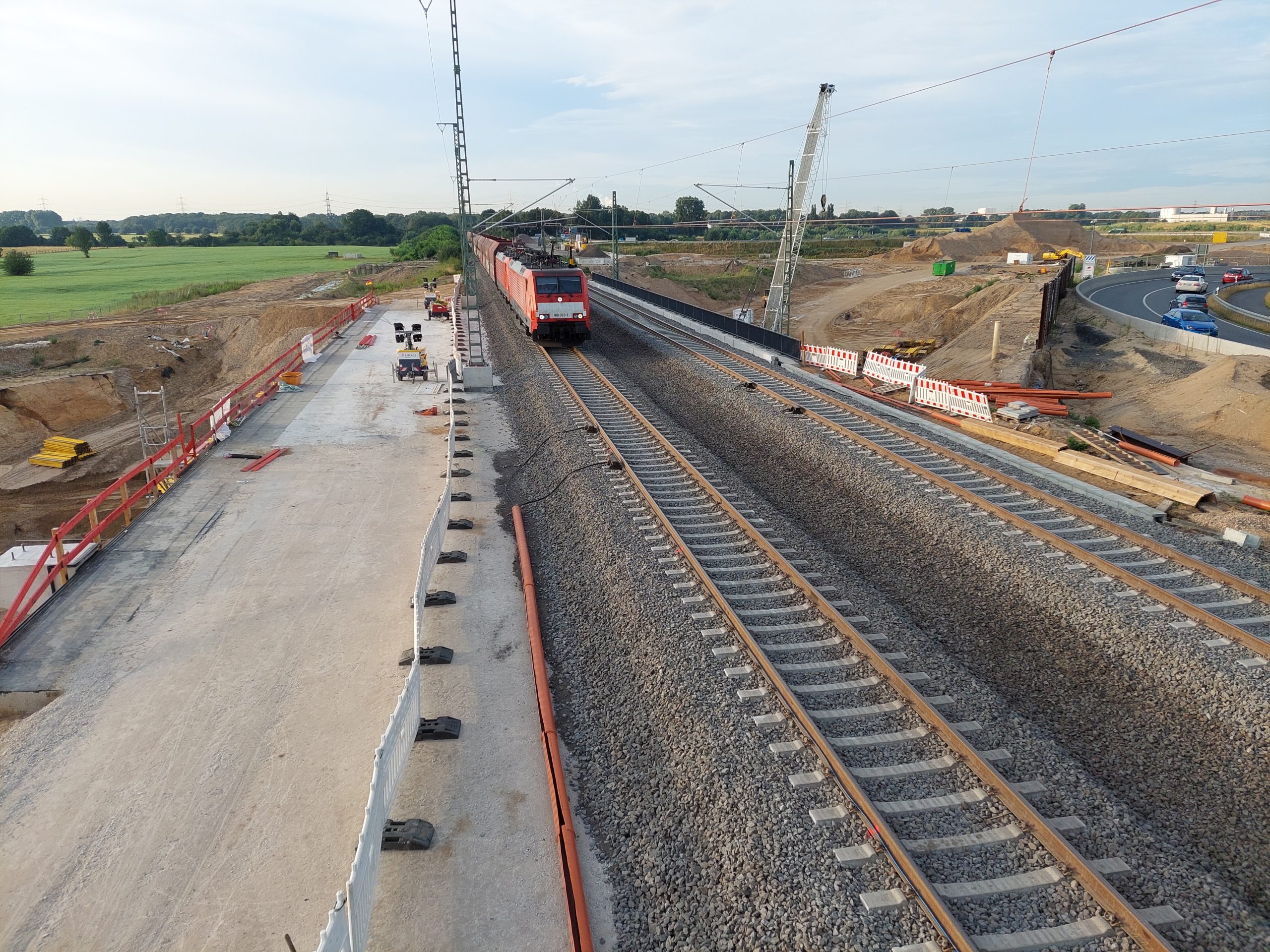 Three-track upgrade Emmerich – Oberhausen
Upgraded line 46/2 between Emmerich and Oberhausen (colloquially known as the "Betuwe Line") is a section of the important European freight corridor from Rotterdam to Genoa, connecting the Dutch North Sea ports with the western Ruhr region. Due to the steadily growing traffic levels on the north-south axis, the line has reached its capacity limit. A complete upgrade of the existing line to at least three tracks and modernization of the connecting infrastructures is planned to increase line capacity on the line section Oberhausen – Emmerich – D/NL national border.
A total of twelve planning approval sections were formed, corresponding to five construction phases. Several measures are planned in connection with this in different implementation phases. Prior to construction of the third track, the control-command and signaling systems have already been modernized by the construction of a new electronic interlocking (EI) system. Additional work planned includes measures at the Oberhausen rail junction, renewal of the electrification system changeover at the border with the Netherlands and equipping the line with an ETCS. Increasing the number of signal blocks allows more trains to run on the line in shorter intervals. Bridges must be upgraded or newly constructed. These will replace the existing level crossings, which will be removed. 12 of the 15 stations and stops along the line will be upgraded.
In the Deutsche Bahn AG network, the line plays a key role for international passenger and freight transport, in particular as part of the Rotterdam-Genoa freight corridor, which runs for around 1,300 km from the major North Sea ports of Antwerp, Rotterdam and Amsterdam to the Mediterranean ports in northern Italy.
Project information
5 construction phases, subdivided into 12 planning approval sections over a total of 73 kilometers, of which a total of 3 construction phases are planned by DB E&C
Expansion and upgrading of the rail infrastructure through

46 km construction of a third track adjacent to two existing ones
22 km construction of three tracks
3 km construction of a third and fourth track adjacent to two existing ones

Upgrades of 12 of the 15 stations on the line
Demolition of all 55 level crossings, enabling higher speeds
Upgrading/new construction of 47 railroad and road overpasses
Expansion of the Emmerich am Rhein electronic interlocking (EI) system
Capacity expansion by increasing the number of signal blocks for the sequence of trains
Switching of the electrification system: alternating current operation between D and NL
Upgrading of all trackside equipment
Services
Planning

Project design for nonbuilding structures
Technical design for supporting structure planning
Project design for transport facilities
Technical design for electrical power systems
Technical design for overhead line equipment
Technical design for control-command and signaling systems
Project design for outdoor facilities

Construction document service for environmental & geo-services.
Construction supervision for all technical disciplines including environmental construction supervision
Construction operations planning: Construction phase design for all construction phases
Design review of overhead line equipment and electrical power systems