ITS World Congress 2021 – Experience Future Mobility Now
October 12, 2021 – 12:40 pm
From October 11-15, 2021, DB Engineering & Consulting (DB E&C) will be presenting its services at the ITS World Congress (ITS) in Hamburg at the Deutsche Bahn stand. ITS is one of the world's largest transport technology events focused on smart mobility and the digitalization of transport. The theme of this year's Congress is "Experience Future Mobility Now."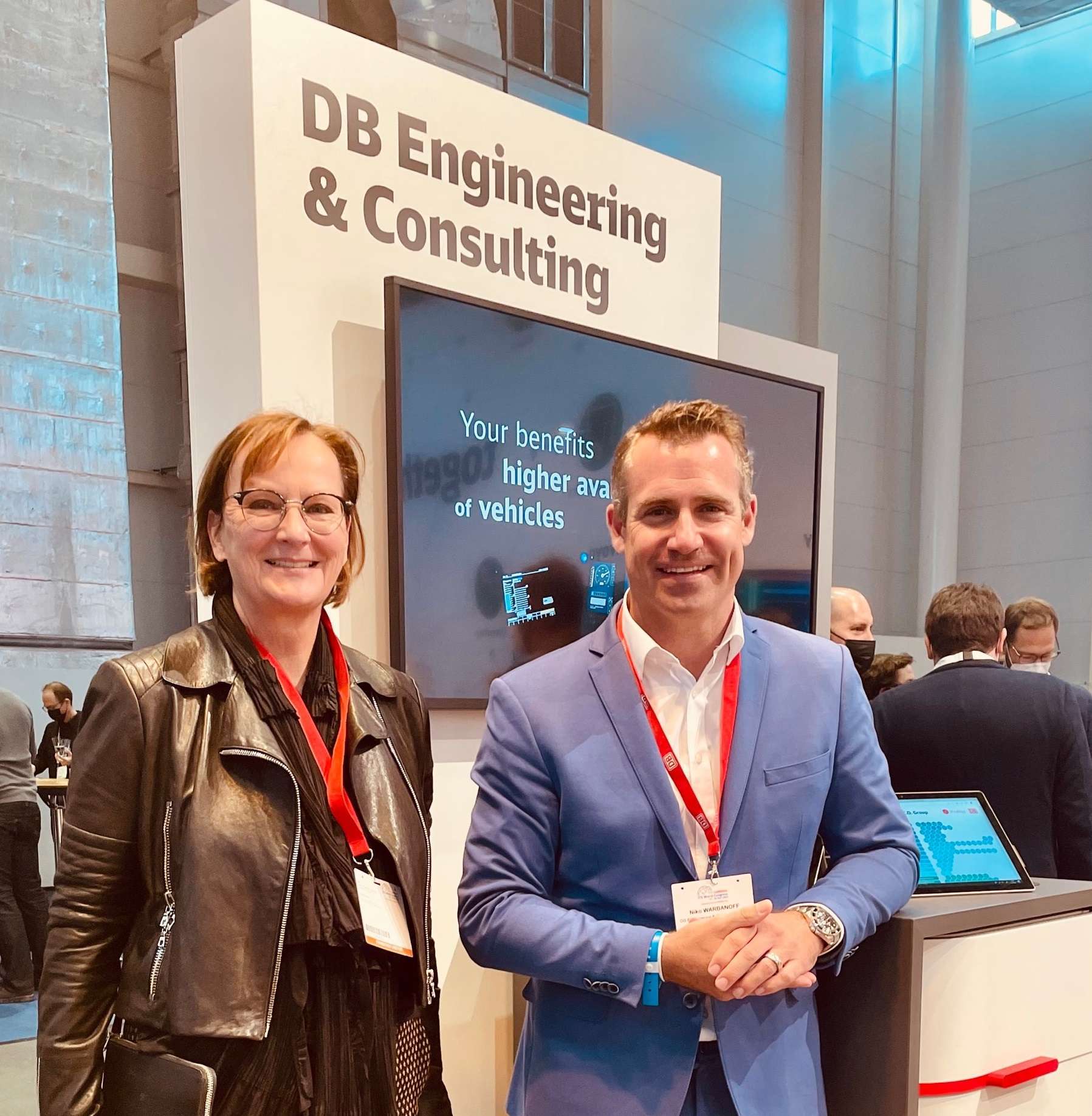 The steadily increasing visitor numbers at the ITS World Congress show the growing importance of smart transport systems, especially in urban areas. ITS brings together decision-makers in the industry from all over the world and offers an excellent opportunity for professional dialogue on topics such as smart mobility and the digitalization of transport.
Actively shaping the mobility of the future
Deutsche Bahn has invested billions in the railways in recent years and will continue to do so in the future. These investments will ensure faster connections and safe and comfortable travel. Deutsche Bahn's services are already making an important contribution to sustainable transport in cities. We know that there is only one way to achieve climate targets in Germany and Europe: shifting traffic from roads to green rail services on a massive scale.
Thanks to its expertise, DB Engineering & Consulting is a driver of Strong Rail in Germany and around the globe. We can look back on 185 years of rail expertise and are driving smart rail mobility solutions with innovative technologies for the world of tomorrow.
In our many national and international projects, we inspire our customers with innovative products and services. We are implementing extensive high-speed rail projects around the globe – in Germany , California , China and Saudi Arabia – and are involved in the construction of Europe's sustainable transportation routes as part of the EU's Trans-European Networks (TEN) program.
As a pioneer of modern mobility, we understand how to develop smart transport solutions with new technologies and business models. We develop environmentally-friendly models and customer-oriented site solutions that make cities more efficient and thus more climate-friendly. We also advise our customers on the development of digital, multimodal travel and transport chains that turn stations into smart mobility hubs.
Visit us at the Deutsche Bahn stand (B5102). We're looking forward to meeting you there and enjoying some interesting discussions. You are also warmly invited to join our four specialist lectures on Tuesday, 12th and Wednesday, 13th of October. For more information, please check the flyer below:
Get an insight into Deutsche Bahn's portfolio and learn how we are helping to shape the future of mobility in our video.
Contact
Sarah Geißler
Head of
Marketing & Communications
DB Engineering & Consulting
EUREF-Campus 14
Torgauer Strasse 12-15
10829 Berlin
Germany
E-Mail
---
Our news categories